| | | | |
| --- | --- | --- | --- |
| Simple ttl crystal oscillator | | | |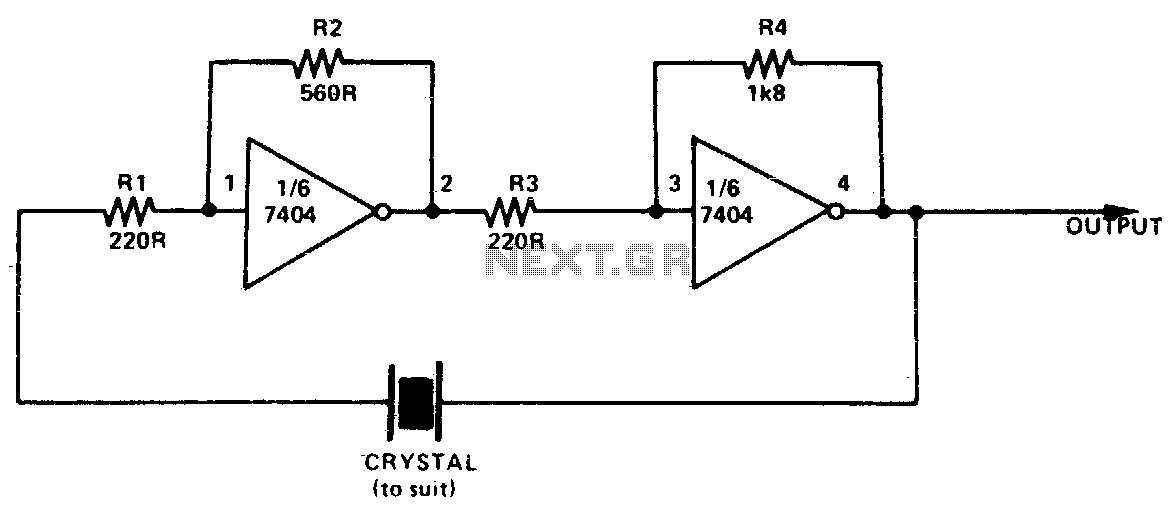 Oscillation can only occur at the crystals fundamental frequency.
Recommended videos
Electronic Basics #17: Oscillators || RC, LC, Crystal

Electronics: Introduction to LC Oscillators circa 1974 US Air Force Training Film

Oscillators, the Basic Tank Circuit 1
News
Satellite PR News (press release)

Global Crystal Oscillator Market analysis is provided for the World markets including development trends, competitive landscape analysis, and key regions ...

Next Big Future

Next Big Future In the latest issue of Nature Photonics, MIT researchers present a practical way to introduce second-order nonlinearities into silicon photonics. They also report ...

TechAnnouncer (press release) (registration) (blog)

TechAnnouncer (press release) (registration) (blog) The accuracy of a semiconductor clock is determined by a time base which typically has a 32.768 kHz . These are very cheap but fall behind in terms of timekeeping, thereby reducing the acc

Reverb News

Reverb News Running a small–town vintage instrument business, I never know when, where, or how the next musical treasure will surface. Such was the case when my phone rang one afternoon a couple years ago. A fellow named Jerry Scott had

Digitimes

Foreign currency exchange losses led to the profit decline, said the Taiwan-based maker of quartz and . TXC generated revenues of NT$750 million in January 2017, down 12.5% sequentially and 3.6% from a year earlier. TXC reported ...

WhaTech

With rising demand in different platforms, Global Next Generation Crystal Oscillator Market is estimated to grow at a CAGR of 6.25% with total revenue of $2.41 ...

ThomasNet News (press release) (blog)

ThomasNet News (press release) (blog) come with DSP technology for precise temperature control.NDK's NH20M20LB and NH37M28LK High-Precision are designed to raise the bar for frequency accuracy in base stations for mobile communications

Satellite PR News (press release)

Satellite PR News (press release) The report "Next Generation Crystal Oscillators Market: By End Use Verticals (Industrial, Automotive, Others), By Product Type (Temperature, Voltage, Frequency ...

MarketWatch

According to the new market research report on the "Crystal Oscillators Market by Mounting Scheme (Surface Mount and Thru-Hole), Crystal Cut (AT, BT, and ...