| | | | |
| --- | --- | --- | --- |
| 100 MHz RF oscillator with ATtiny12 | | | |
A frequency reference for tuning up the RS-232 to 100 MHz RF desktop channel adapter elsewhere on this site, when I found this Saronix crystal oscillator in my junk box. A few minutes with AVRStudio produced an ATtiny12 to make a tone - even fewer parts than using an NE-555. With the addition of a transistor to gate the output, I was set to go. Quick and dirty, but it was useful. The Saronix oscillator has an open emitter output. When the 330 Ohm load resistor on the output is grounded, the RF out of the oscillator increases. Modulation is affected by driving the MPSH34 on and off to switch the 330 Ohm load resistor.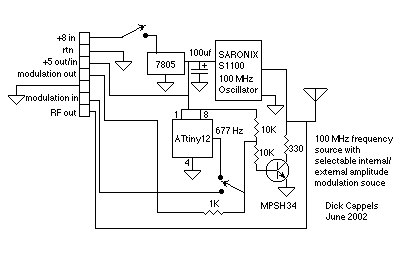 An Atmel ATtiny12 provides a square wave signal that can be used to drive the MPSH34, or if the SPDT switch is in the other position, an external modulation source can be used to modulate the signal, or if nothing is connected to the modulation input, the RF output is at maximum value because of the two 10K pull-up resistors on the base of the MPSH34. This technique should work with an oscillator that requires an external pull-down resistor on its output.
Recommended videos
Electronics: Introduction to LC Oscillators circa 1974 US Air Force Training Film
News
Winfield Review

Industries, Ltd. (NASDAQ:RFIL) Industries, Ltd. (NASDAQ:RFIL) may have great momentum, but how has it been performing relative to the market? The stock's price is $1.55 and their relative strength index (RSI) stands at 46.52. RSI is a techn

ThomasNet News (press release) (blog)

ThomasNet News (press release) (blog) features self-locking screw.... Gunn module offers designers a cost-effective and high performing K-Band waveguide frequency source solution for use with sensitive communications, radar and test and

TV Technology

TV Technology On-demand microwave and RF components supplier Fairview Microwave is rolling out a waveguide Gunn oscillator that provides a source of microwave power ...

Yahoo Finance

Yahoo Finance Operating at 24.125 GHz20, 2017 /PRNewswire/ -- Fairview Microwave Inc., a supplier of on-demand microwave and components, has released a waveguide Gunn that provides a cost-effective source for microwave power with excel

All About Circuits

All About Circuits Designs... the "IF," because it has been shifted down to the "intermediate frequency." The inputs are the received signal and the LO ("local ") signal; the intermediate frequency is

RF Globalnet (press release)

: SFS0990C-LF Features Exceptionally Low Phase NoiseZ-Communications, Inc. announces a new Fixed Frequency Synthesizer model SFS0990C-LF. The SFS0990C-LF is a preprogrammed synthesizer that is phase locked at 990MHz to an external 10MHz refe

Satellite PR News (press release)

PUNE, INDIA, Feuary 15, 2017 /EINPresswire.com/ — Radio Frequency (RF) equipment is a type of test instrument that can compute signals having a higher ...

Newswire Today (press release)

, Inc. Releases Wireless 5uA Inductive Proximity Sensor SystemNewswireToday - /newswire/ - Bala Cynwyd, PA, United States, 2017/02/14 - Micro , Inc. (MOI) announces a practical battery powered Wireless Inductive Proximity Sensor System uti

RF Globalnet

RF Globalnet (press release)

Saelig Co. Inc. has launched the new EQHJ Series Oscillators designed by frequency control specialist Euroquartz, offering ultra-low phase jitter. The new ...