Laser-receiver circuits must bias their avalanche photo diodes (APD) to achieve optimal gain. Unfortunately, an APD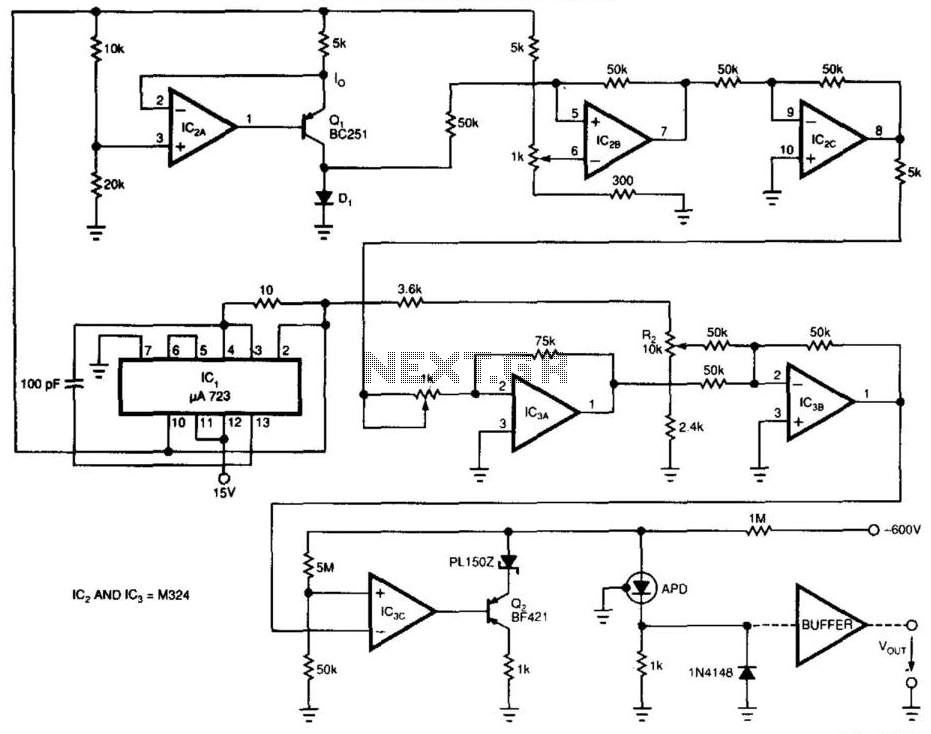 `s gain depends on the operating temperature. The circuit controls the operating voltage of an APD over a large temperature range to maintain the gain at the optimal value. The circuit uses Dl as a temperature sensor, thermally matched with the APD. A voltage regulator, IC1, supplies the necessary reference voltage to the circuit. IC2A and Ql bias Dl at a constant current. IC2B, IC2C, IC3A/IC3B, and IC3C amplify Dl`s varying voltage and set Q2 to the optimal-gain corresponding value. Potentiometer Rl controls the amplification over a range of 5 to 15. R2 controls the voltage level, which corresponds to the optimal gain of the APD at 22°C (the temperature is specific to the type of APD). The circuit shown was tested with an RCA C 30954E APD. The tests covered -40 to + 70°C and used a semiconductor laser. The laser radiation was transmuted on the APD`s active surface in the climatic room via fiberoptic cable. The gain varied by, at most, ±0.2 dB over the entire temperature range.
Recommended videos
#167: How a Diode Ring Mixer works | Mixer operation theory and measurement

#161: Circuit Fun: a simple RF detector / demodulator probe for DMM or scope

Why do Laser Diodes Need Driver Circuits And How Do They Work?
News
ThomasNet News (press release) (blog)

ThomasNet News (press release) (blog) features self-locking screw.... Gunn module offers designers a cost-effective and high performing K-Band waveguide frequency source solution for use with sensitive communications, radar and test and

RF Globalnet (press release)

NI (Nasdaq:NATI), the provider of platform-based systems that enable engineers and scientists to solve the world's greatest engineering challenges, today announced the availability of the USRP-2945 quad receiver SDR device and the USRP-2944&nbsp

TV Technology

TV Technology ALLEN, TEXAS—On-demand microwave and components supplier Fairview Microwave is rolling out a waveguide Gunn that provides a source of microwave power with frequency and power stability while generating low-phase nois

Yahoo Finance

Yahoo Finance Operating at 24.125 GHz20, 2017 /PRNewswire/ -- Fairview Microwave Inc., a supplier of on-demand microwave and components, has released a waveguide Gunn that provides a cost-effective source for microwave power with excel

RF Globalnet (press release)

: SFS0990C-LF Features Exceptionally Low Phase NoiseZ-Communications, Inc. announces a new Fixed Frequency Synthesizer model SFS0990C-LF. The SFS0990C-LF is a preprogrammed synthesizer that is phase locked at 990MHz to an external 10MHz refe

All About Circuits

All About Circuits Designs... the "IF," because it has been shifted down to the "intermediate frequency." The inputs are the received signal and the LO ("local ") signal; the intermediate frequency is

Satellite PR News (press release)

PUNE, INDIA, Feuary 15, 2017 /EINPresswire.com/ — Radio Frequency (RF) equipment is a type of test instrument that can compute signals having a higher ...

Newswire Today (press release)

, Inc. Releases Wireless 5uA Inductive Proximity Sensor SystemNewswireToday - /newswire/ - Bala Cynwyd, PA, United States, 2017/02/14 - Micro , Inc. (MOI) announces a practical battery powered Wireless Inductive Proximity Sensor System uti

RF Globalnet

RF Globalnet (press release)

Saelig Co. Inc. has launched the new EQHJ Series Oscillators designed by frequency control specialist Euroquartz, offering ultra-low phase jitter. The new ...