Laser-receiver circuits must bias their avalanche photo diodes (APD) to achieve optimal gain. Unfortunately, an APD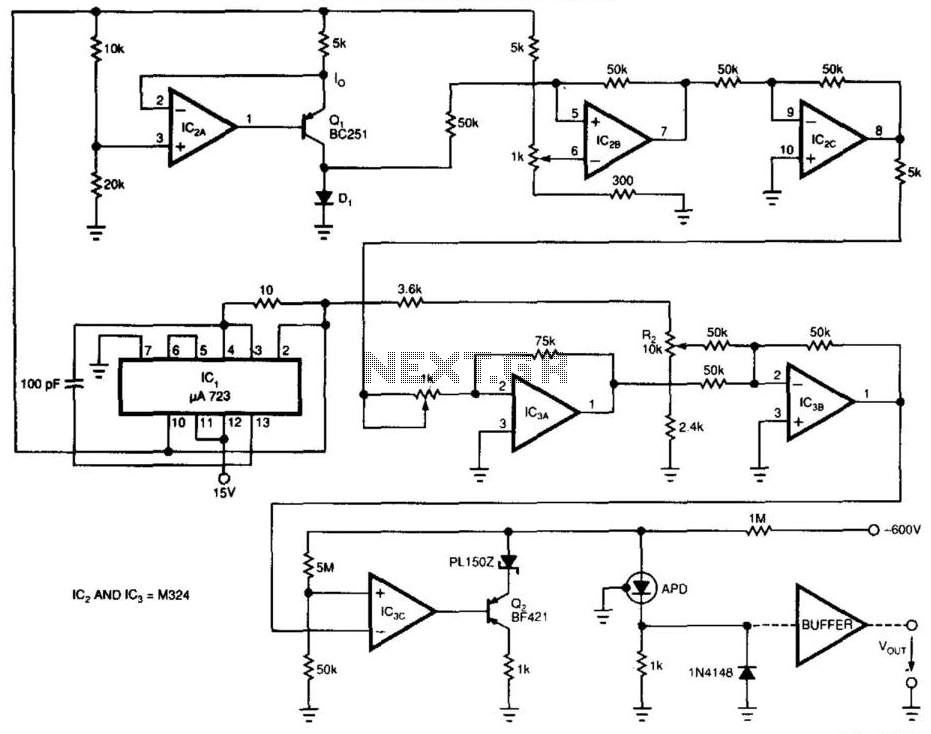 `s gain depends on the operating temperature. The circuit controls the operating voltage of an APD over a large temperature range to maintain the gain at the optimal value. The circuit uses Dl as a temperature sensor, thermally matched with the APD. A voltage regulator, IC1, supplies the necessary reference voltage to the circuit. IC2A and Ql bias Dl at a constant current. IC2B, IC2C, IC3A/IC3B, and IC3C amplify Dl`s varying voltage and set Q2 to the optimal-gain corresponding value. Potentiometer Rl controls the amplification over a range of 5 to 15. R2 controls the voltage level, which corresponds to the optimal gain of the APD at 22°C (the temperature is specific to the type of APD). The circuit shown was tested with an RCA C 30954E APD. The tests covered -40 to + 70°C and used a semiconductor laser. The laser radiation was transmuted on the APD`s active surface in the climatic room via fiberoptic cable. The gain varied by, at most, ±0.2 dB over the entire temperature range.
Recommended videos
#161: Circuit Fun: a simple RF detector / demodulator probe for DMM or scope

#167: How a Diode Ring Mixer works | Mixer operation theory and measurement

Extremely simple laser alarm circuit - A tutorial using only four components!
News
Sherwood Daily

Industries Ltd. (RFIL)Checking on current RSI levels on shares of Industries Ltd. (RFIL), the 14-day RSI is currently standing at 47.12, the 7-day is at 42.47, and the 3-day is resting at 29.73. Relative Strength ... RSI is a momentum tha

Highland Mirror

... modules hyids infrastructure radio frequency () subsystems isolators lighting and display solutions mixers modulators optocouplers optoisolators phase shifters phase locked loops (PLLs) synthesizers voltage controlled power dividers

Growth, Trends, Forecast And Market Demand 2024

RF Globalnet (press release)

An IC can execute a function as an amplifier, , microprocessor etc. Integrated circuits are ... Analog integrated circuits can be linear or IC's, usually found in an operational amplifier that possesses a very high voltage gain

Hackaday

Hackaday A little of the amplified signal is fed back into the tuned circuit through an additional coil on the ferrite rod that acts as the receiver's antenna. Positive feedback amplifies the even more, a germanium diode envelope detector d

Sports Perspectives

Sports Perspectives According to Zacks, "M/A-COM Technology Solutions Holdings, Inc. provides analog semiconductor solutions for use in wireless and wireline applications across the , microwave and millimeterwave spectrum. ... It's prod

Yankee Analysts

)We can also do some further technical analysis on the stock. At the time of writing, the 14-day ADX for Regions Financial Corp. () is 29.82. Many technical chart analysts believe that an ADX value over 25 would suggest a strong trend. A rea

Electronics Weekly

Electronics Weekly delivers low phase noiseIQD's rubidium , the IQRB-2, delivers low phase noise of -112dBc/Hz at 1Hz and -158dBc/Hz at 10kHz. It is housed in a 95.5 x 62.5 x 44.3mm module so can be used in a 1U rack. The electrical conn

GPS World magazine

GPS World magazine A new solution for GNSS multipath employs a multi-element antenna with signal switching and a single front end to reduce complexity, power consumption and cost. Correlator beamforming, initially used in the 2.4 GHz frequen

EE Times

Since, then, it's become a staple in communications systems design, both in the analog () and digital (clock) domains. PLLs are often used to ... Phase detector, voltage-controlled , frequency divider, loop filter. Loop filter, frequency