This basic VFO for the 3- to 6-MHz range is coirimonly used in amateur applications, using a Colpitis circuit. For 5 to 5.5 MHz, C = C2 = 70 pF and for 3.5 to 4.0 MHz, use 1000 pF. C3 is typically 10 to 220 pF, depending on the frequency. C4, C5, and C6, together with C3, determine the frequency along with LI.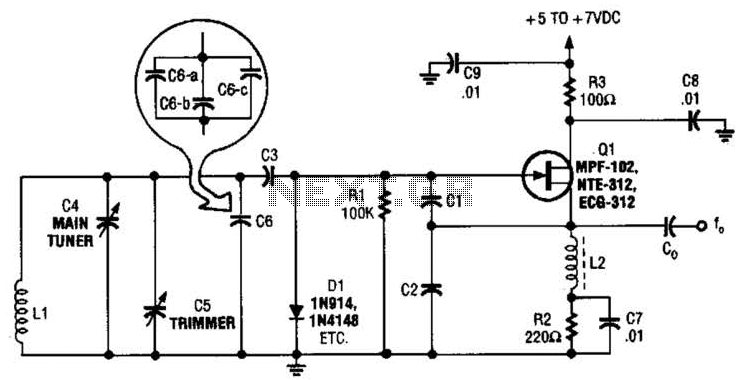 C6 can be made up of several smaller values, paralleled to get the exact required value.
Recommended videos
shortwave radio VFO oscillator circuit

local oscillator 1.3 MHz - 4.2 MHz (demo circuit)

The Ugly Weekender - A Homebrew QRP Transceiver
News
Winfield Review

Industries, Ltd. (NASDAQ:RFIL) Industries, Ltd. (NASDAQ:RFIL) may have great momentum, but how has it been performing relative to the market? The stock's price is $1.55 and their relative strength index (RSI) stands at 46.52. RSI is a techn

ThomasNet News (press release) (blog)

ThomasNet News (press release) (blog) features self-locking screw.... Gunn module offers designers a cost-effective and high performing K-Band waveguide frequency source solution for use with sensitive communications, radar and test and

TV Technology

TV Technology On-demand microwave and RF components supplier Fairview Microwave is rolling out a waveguide Gunn oscillator that provides a source of microwave power ...

Yahoo Finance

Yahoo Finance Operating at 24.125 GHz20, 2017 /PRNewswire/ -- Fairview Microwave Inc., a supplier of on-demand microwave and components, has released a waveguide Gunn that provides a cost-effective source for microwave power with excel

All About Circuits

All About Circuits Designs... the "IF," because it has been shifted down to the "intermediate frequency." The inputs are the received signal and the LO ("local ") signal; the intermediate frequency is

RF Globalnet (press release)

: SFS0990C-LF Features Exceptionally Low Phase NoiseZ-Communications, Inc. announces a new Fixed Frequency Synthesizer model SFS0990C-LF. The SFS0990C-LF is a preprogrammed synthesizer that is phase locked at 990MHz to an external 10MHz refe

Satellite PR News (press release)

PUNE, INDIA, Feuary 15, 2017 /EINPresswire.com/ — Radio Frequency (RF) equipment is a type of test instrument that can compute signals having a higher ...

Newswire Today (press release)

, Inc. Releases Wireless 5uA Inductive Proximity Sensor SystemNewswireToday - /newswire/ - Bala Cynwyd, PA, United States, 2017/02/14 - Micro , Inc. (MOI) announces a practical battery powered Wireless Inductive Proximity Sensor System uti

RF Globalnet

RF Globalnet (press release)

Saelig Co. Inc. has launched the new EQHJ Series Oscillators designed by frequency control specialist Euroquartz, offering ultra-low phase jitter. The new ...