An RF input is applied to the primary of Tl, which applies equal amplitude, opposite phase RF drive for output FETs Ql and Q2. With no AF modulation at points A and B, the opposite phase RF signals cancel each other and no output appears at the 50 V output connector. When AF modulation is applied to points A and B, a modulated RF output is obtained. The dc stability and low frequency gain are improved by source resistors R18 and R19.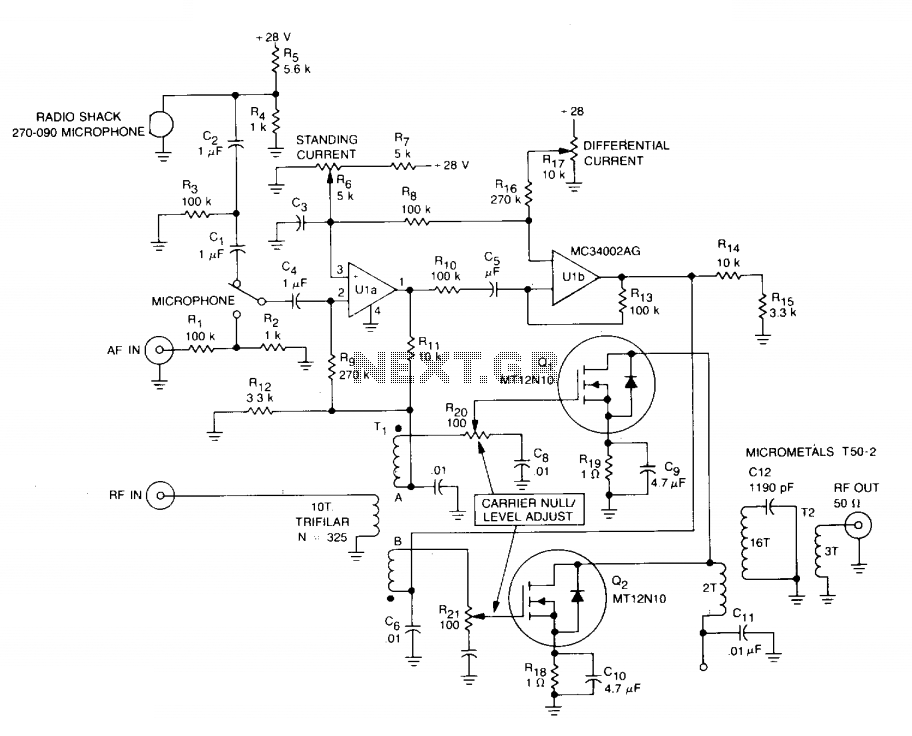 A phase inverter consisting of a dual op amp (Ula and Ulb) produces the out-of-phase, equal amplitude AF modulation signals.
Recommended videos
#167: How a Diode Ring Mixer works | Mixer operation theory and measurement

Amplitude Modulation tutorial and AM radio transmitter circuit

Electronics: Introduction to LC Oscillators circa 1974 US Air Force Training Film
News
ThomasNet News (press release) (blog)

ThomasNet News (press release) (blog) features self-locking screw.... Gunn module offers designers a cost-effective and high performing K-Band waveguide frequency source solution for use with sensitive communications, radar and test and

RF Globalnet (press release)

NI (Nasdaq:NATI), the provider of platform-based systems that enable engineers and scientists to solve the world's greatest engineering challenges, today announced the availability of the USRP-2945 quad receiver SDR device and the USRP-2944&nbsp

TV Technology

TV Technology ALLEN, TEXAS—On-demand microwave and components supplier Fairview Microwave is rolling out a waveguide Gunn that provides a source of microwave power with frequency and power stability while generating low-phase nois

Yahoo Finance

Yahoo Finance Operating at 24.125 GHz20, 2017 /PRNewswire/ -- Fairview Microwave Inc., a supplier of on-demand microwave and components, has released a waveguide Gunn that provides a cost-effective source for microwave power with excel

RF Globalnet (press release)

: SFS0990C-LF Features Exceptionally Low Phase NoiseZ-Communications, Inc. announces a new Fixed Frequency Synthesizer model SFS0990C-LF. The SFS0990C-LF is a preprogrammed synthesizer that is phase locked at 990MHz to an external 10MHz refe

All About Circuits

All About Circuits Designs... the "IF," because it has been shifted down to the "intermediate frequency." The inputs are the received signal and the LO ("local ") signal; the intermediate frequency is

Satellite PR News (press release)

PUNE, INDIA, Feuary 15, 2017 /EINPresswire.com/ — Radio Frequency (RF) equipment is a type of test instrument that can compute signals having a higher ...

Newswire Today (press release)

, Inc. Releases Wireless 5uA Inductive Proximity Sensor SystemNewswireToday - /newswire/ - Bala Cynwyd, PA, United States, 2017/02/14 - Micro , Inc. (MOI) announces a practical battery powered Wireless Inductive Proximity Sensor System uti

RF Globalnet

RF Globalnet (press release)

Saelig Co. Inc. has launched the new EQHJ Series Oscillators designed by frequency control specialist Euroquartz, offering ultra-low phase jitter. The new ...