| | | | |
| --- | --- | --- | --- |
| Triangle-square wave oscillator | | | |
This circuit generates simultaneously, a triangle and a square waveform. It is self starting and has no latch up problems. IC1 is an integrator with a slew rate determined by CT and RT and IC2 is a Schmitt trigger. The output of IC1 ramps up and down between the hysteresis levels of the Schmitt, the output of which drives the integrator. By making RT variable, it is possible to alter the operating frequency over a 100 to 1 range.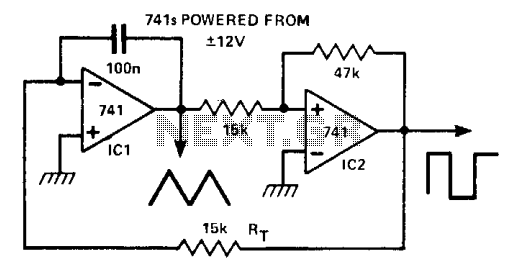 Three resistors, one capacitor, and a dual op amp is all that is needed to make a versatile triangle and square wave oscillator with a possible frequency range of 0.1 Hz to 100 kHz.