| | | | |
| --- | --- | --- | --- |
| Pressure measurement circuit diagram | | | |
It is a measurement circuit, when the force is 0 ~ 1500g time. U. Output O ~ 1500nN (sensitivity ImV / g).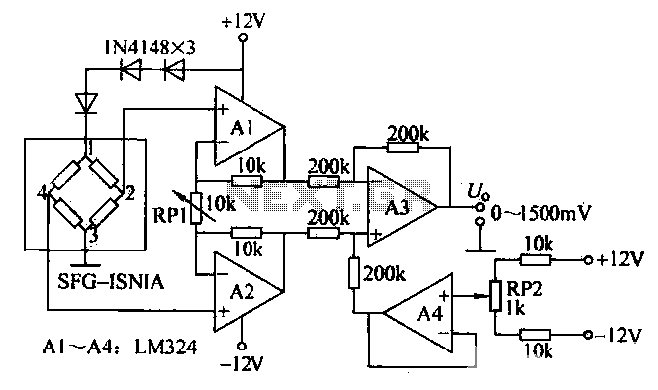 Powered by 12V power supply with disabilities, the force sensor consists of 12V (about 10V) power supply after three diode buck. A1 ~ A3 composed of the instrumentation amplifier whose differential input terminal directly, feet connected to the force sensor feet. A4 connected as a follower, the input voltage potentiometer RP2, whose role is to eliminate zero output, that is, when the force is zero, if the bridge or unbalanced output amplifiers have offset voltage can be adjusted RP2. The output U. -ov. Adjust RP1 (adjusted magnification) can be at full scale 1500g force that Uo = 1500mV. To ensure the accuracy of the instrumentation amplifier, the resistance should be used metal film resistors, the resistors A1 ~ A3 accuracy of 1% or better after pairing.