Self-excited transistor inverter circuit. These types of inverters better performance, but also relatively simple diagram 2-122, available for 8 ~ 40W fluorescent lamps. When the power supply voltage is within 20% of the soil changes, which can operate stably.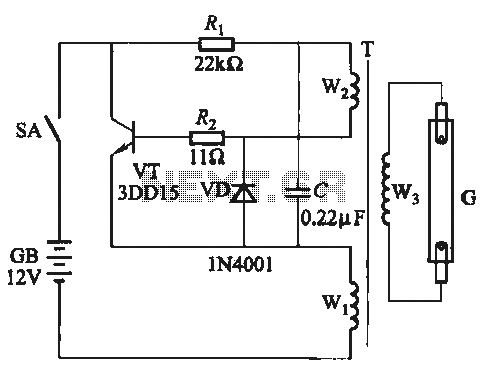 Recommended videos
Make an inverter : DIY Experiments [#2] Power AC devices with a battery / Simple inverter DIY

AC Circuits, Transformerless Power Supplies,

How to Make Inverter at Home - Very Easy to make!
News
BNB Daily (blog)

Cree, Inc. logo J P Morgan Chase & Co restated their overweight rating on shares of Cree, Inc. (NDAQ:CREE) in a report issued on Tuesday morning, StockTargetPrices.com reports. J P Morgan Chase & Co currently has a $30.00 target price on

Satellite PR News (press release)

New Ecofit-and high-efficiency E-Series backward-curved impellers are now available from Rosenberg USA in the popular 250-mm (9.85-in) size. The new ...

DailyQuint

Cree, Inc. (NASDAQ:CREE)'s stock had its "hold" rating reaffirmed by analysts at Canaccord Genuity in a report issued on Thursday. They presently have a ...Cree Inc. (CREE) Given a $17.00 Price Target by the Goldman ...Petro

BBNS

Cree, Inc. logo J P Morgan Chase & Co reissued their overweight rating on shares of Cree, Inc. (NDAQ:CREE) in a research note published on Tuesday morning ...

Money Flow Index & Trends

LEDs Magazine The Company's products are focused for applications such as indoor and outdoor lighting video displays transportation electronic signs and signals and wireless systems. The Company has three segments: Lighting Products LED&nbsp

Market Exclusive

The current consensus rating on Cree (NASDAQ:CREE) is Hold (Score: 2.12) with a consensus target price of $32.54 per share, a potential 24.15% upside.Brokers Issue New Targets On Cree, Inc. (NASDAQ:CREE) - Fiscal ...Fiscal Standard

Yahoo Finance

Cree, Inc. (CREE), a market leader in LED lighting, today announced that it will terminate the definitive agreement to sell its Wolfspeed Power and RF division ("Wolfspeed"), which includes the silicon carbide substrate business for

MassTransitMag.com (press release) (registration) (blog)

To operate rail lighting, electronics and communication devices both in the rail car and in control booths, power converters — such as , battery chargers and — are often installed to convert available DC or AC to the

Nasdaq

GlobeNewswire The expansion of Incap's production premises in Tumkur was completed in planned schedule and Incap celeated the opening of the new facilities on 18 ...Incap with new Indian manufacturing facilityevertiq.com