| | | | |
| --- | --- | --- | --- |
| Complementary-output-variable-frequency-inverter | | | |
U1 is a 4060 12-stage binary ripple counter that is used as a free-running oscillator; its frequency of oscillation is: 1/2.2 CIR2. The output of U1 is applied to U2, a 14-stage binary ripple counter that provides square-wave outputs of lfz, 1/4, `is, and `lls of the clock frequency. These signals are combined in U3 and U4 to provide a complementary drive for Q1 and Q2.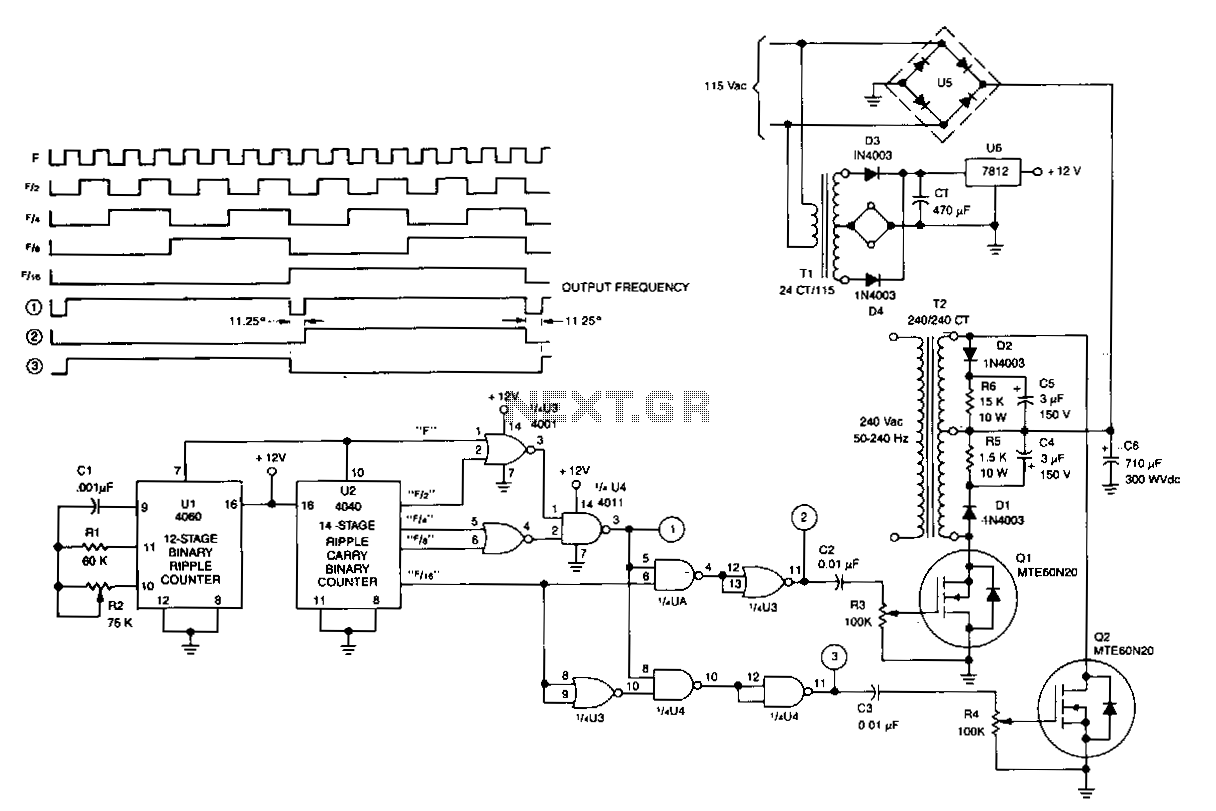 Outputs from U3 and U4 are ac-coupled to Q1 and Q2 via C2 and C4, respectively. R3 and R4 adjust tbe gate drive to Q1 and Q2. Q1 and Q2 alternately draw current through opposing sides of the primary to synthesize an ac input voltage at a given frequency. Only one side of the primary of T2 is driven at one time, so maximum power output is half of the transformer rating.
Recommended videos
What is a Variable Frequency Drive (VFD)?

How to run industrial 3 phase motor on single phase

Converter Vs Inverter - Voltage Level, Supplies Differences of Converter and Inverter
News
The Cerbat Gem

The Cerbat Gem Cree logo Cree, Inc. (NASDAQ:CREE) announced its earnings results on Tuesday. The LED producer reported ($0.11) earnings per share for the quarter, missing the Thomson Reuters' consensus estimate of $0.09 by $0.20. The firm ear

Flyback transformer optimised for industrial applications

Electropages (blog)

Electropages (blog) Used in conjunction with Avago's chipset, the device is suitable for a wide range of industrial applications including , uninterruptible and switch-mode , automation systems, DC-DC converters, renewable energy , and AC

Utilities-ME.com

Utilities-ME.com The released solutions can lead to energy efficiencies of up to 98% for telecom power, solar PV and uninterruptible (UPS). The company has also released its building management and control system (BMCS), an intelligent plat

MENAFN.COM

The new and improved ECI technology offers bi-directionality and multi-directionality on every converter, inging a new dimension to modular and uninterruptible (UPS) with enhanced flexibility and improved efficiency. With

HuronReport

HuronReport The Company's products are focused for applications, such as indoor and outdoor lighting, video displays, transportation, electronic signs and signals, , and wireless systems. It currently has negative earnings. The Firm has

BBNS

Breaking Finance News Cree, Inc. logo Zacks Investment Research downgraded shares of Cree, Inc. (NASDAQ:CREE) from a buy rating to a hold rating in a research note published on Tuesday. According to Zacks, "Cree, Inc. is a market-leadin

Markets Daily

Markets Daily Cree logo Russell Investments Group Ltd. bought a new position in Cree, Inc. (NASDAQ:CREE) during the fourth quarter, according to its most recent filing with the Securities and Exchange Commission (SEC). The institutional inves

Compound Semiconductor

The products are used to convert power in applications such as , solar , AC-AC converters, industrial converters and electric vehicles. Backed by $70 million from the US Department of Energy over five years, PowerAmerica is

GlobeNewswire (press release)

Orbit's Power Group, also located in Hauppauge, NY, designs and manufactures a wide array of power products including AC , frequency converters, , uninterruptible , VME/VPX as well as various COTS ...