In this circuit, a CMOS inverter, such as the CD4069, is used to convert the open drain Lx output to a signal suitable for driving the gate of an external P MOSFET. The MTP8P03 has a gate threshold voltage of 2.0 V to 4.5 V, so it will have a relatively high resistance if driven with only 5 V of gate drive. To increase the gate drive voltage, and thereby increase efficiency and power handling capability, the negative supply pin of the CMOS inverter is connected to the negative output, rather than to ground. Once the circuit is started, the P MOSFET gate drive swings from +5 V to -Vour· At start up, the -Vour is one Schottky diode drop above ground and the gate drive to the power MOSFET is slightly less than 5 V.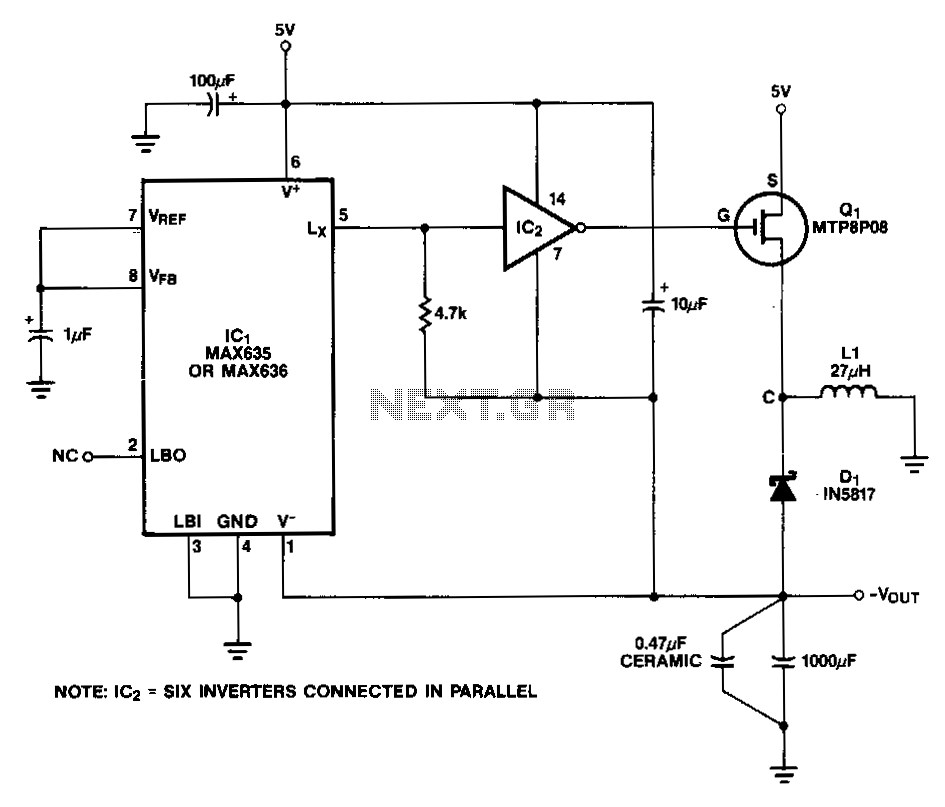 The output should be only lightly loaded to ensure start up, since the output power capability of the circuit is very low until -VoUT is a couple of vults. This circuit generates complementary output signals from 50 to 240 Hz. Digital timing control ensures a separation oflO to 15° between the fall time of one output and the rise time of the complementary output. The digital portion of inverter Ul to U4 controls the drive to Q1 and Q2, both MTE60N20 TMOS devices. These devices are turned on alternately with 11.25° separation between complementary outputs. A +12-V supply for CMOS gates U1 to U4 is developed by T1, D3, D4, C7, and U6. The power supply for the TMOS frequency generator is derived from the diode bridge, U5, and capacitor C7; it is applied to the center tap of T2.
Recommended videos
3000 Watt Power Inverter with 20 Amp Battery Charger 12 Volt DC to 110 Volt AC

AC Circuits, Transformerless Power Supplies,

2000 Watt Power Inverter with 20 Amp Battery Charger 12 Volt DC to 110 Volt AC
News
MENAFN.COM

The new and improved ECI technology offers bi-directionality and multi-directionality on every converter, inging a new dimension to modular and uninterruptible (UPS) with enhanced flexibility and improved efficiency. With

The Cerbat Gem

HuronReport Cree logo Cree, Inc. (NASDAQ:CREE) has earned an average recommendation of "Hold" from the fifteen ratings firms that are currently covering the firm. One equities research analyst has rated the stock with a sell recom

Flyback transformer optimised for industrial applications

Electropages (blog)

Electropages (blog) Used in conjunction with Avago's chipset, the device is suitable for a wide range of industrial applications including , uninterruptible and switch-mode , automation systems, DC-DC converters, renewable energy , and AC

The Cerbat Gem

Cree logo Shares of Cree, Inc. (NASDAQ:CREE) traded down 11.1% on Wednesday following a dissappointing earnings announcement. The stock traded as low as $20.82 and last traded at $22.07, with a volume of 7,809,146 shares changing hands.

HuronReport

HuronReport The Company's products are focused for applications, such as indoor and outdoor lighting, video displays, transportation, electronic signs and signals, , and wireless systems. It currently has negative earnings. The Firm has

Markets Daily

Markets Daily Cree logo Russell Investments Group Ltd. bought a new position in Cree, Inc. (NASDAQ:CREE) during the fourth quarter, according to its most recent filing with the Securities and Exchange Commission (SEC). The institutional inves

Compound Semiconductor

The products are used to convert power in applications such as , solar , AC-AC converters, industrial converters and electric vehicles. Backed by $70 million from the US Department of Energy over five years, PowerAmerica is

Yahoo Finance

Solid State Lighting Design Cree's products are driving improvements in applications such as general illumination, electronic signs and signals, and . For additional product and Company information, please refer to www.cree.com. This press r

GlobeNewswire (press release)

Orbit's Power Group, also located in Hauppauge, NY, designs and manufactures a wide array of power products including AC , frequency converters, , uninterruptible , VME/VPX as well as various COTS ...