In this circuit, a CMOS inverter, such as the CD4069, is used to convert the open drain Lx output to a signal suitable for driving the gate of an external P MOSFET. The MTP8P03 has a gate threshold voltage of 2.0 V to 4.5 V, so it will have a relatively high resistance if driven with only 5 V of gate drive. To increase the gate drive voltage, and thereby increase efficiency and power handling capability, the negative supply pin of the CMOS inverter is connected to the negative output, rather than to ground. Once the circuit is started, the P MOSFET gate drive swings from +5 V to -Vour· At start up, the -Vour is one Schottky diode drop above ground and the gate drive to the power MOSFET is slightly less than 5 V.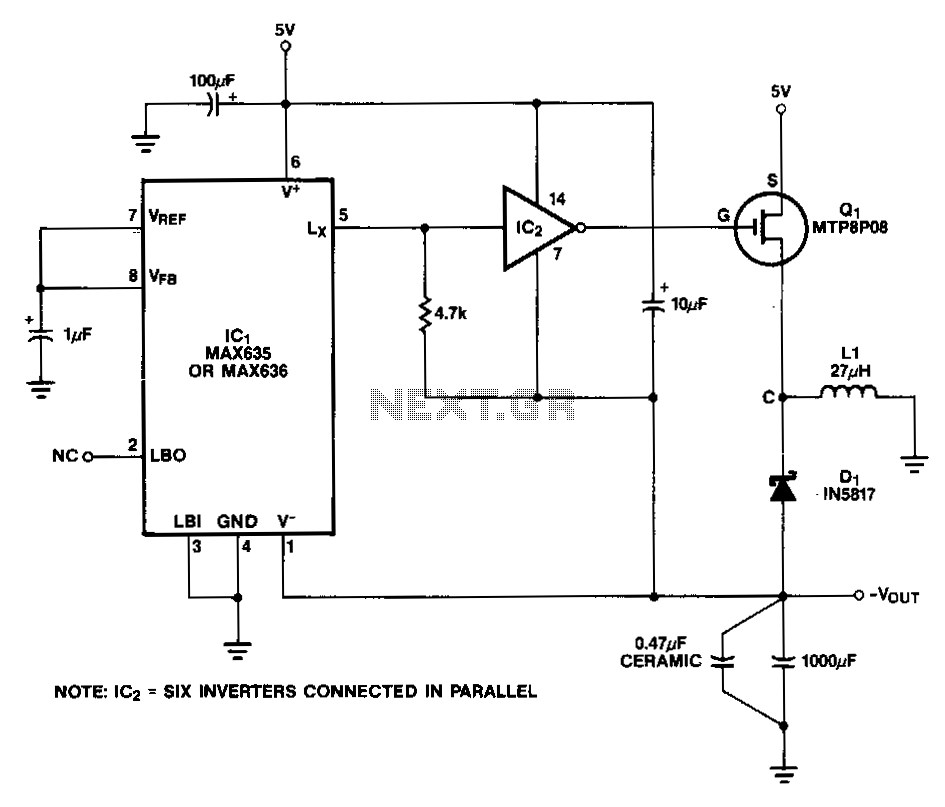 The output should be only lightly loaded to ensure start up, since the output power capability of the circuit is very low until -VoUT is a couple of vults. This circuit generates complementary output signals from 50 to 240 Hz. Digital timing control ensures a separation oflO to 15° between the fall time of one output and the rise time of the complementary output. The digital portion of inverter Ul to U4 controls the drive to Q1 and Q2, both MTE60N20 TMOS devices. These devices are turned on alternately with 11.25° separation between complementary outputs. A +12-V supply for CMOS gates U1 to U4 is developed by T1, D3, D4, C7, and U6. The power supply for the TMOS frequency generator is derived from the diode bridge, U5, and capacitor C7; it is applied to the center tap of T2.
Recommended videos
3000 Watt Power Inverter with 20 Amp Battery Charger 12 Volt DC to 110 Volt AC

Make an inverter : DIY Experiments [#2] Power AC devices with a battery / Simple inverter DIY

2000 Watt Power Inverter with 20 Amp Battery Charger 12 Volt DC to 110 Volt AC
News
RenewEconomy

RenewEconomy ... paradigm, and leading to significant increases in customer complaints of appliance damage or tripping due to high connection point voltages. So much has changed in the voltage requirements of residential appliances. Switch m

Petro Global News 24

Cree, Inc. (NASDAQ:CREE) has earned a consensus rating of "Hold" from the nineteen ratings firms that are currently covering the firm. One analyst has rated ...

Hindustan Times

Hindustan Times In an attempt to promote green energy, the prestigious Indian Institute of Information Technology, Allahabad (IIIT-A) is all set to generate 300kw electricity by ...

AltEnergyMag (press release)

with energy management and data ...With every order for MT and HT series the group is gifting its customers one MaxWeb XPN data logger per photovoltaic system. The data logger has been on the market since autumn 2016 and acts as the remote

Rail Engineer

Rail Engineer To operate lighting, electronics and communication devices, both on trains and in control rooms, power converters such as inverters, battery chargers and power ...

Renewables Now (subscription)

Renewables Now (subscription) Electronics gets 275-MW solar order in MexicoMarch 14 (Renewables Now) - Spanish solar manufacturer Electronics said on Friday it will 275 MW of the HEC V1500 model for two of Iberdrola's (BME:IBE) Mexic

PV-Tech

PV-Tech Electronics to offer 275MW of for two solar installations in Mexico Electronics announced that it will 275MW of its HEC V1500 solar series for two large-scale PV projects in Mexico. The installations will be developed by Iberd

Business Standard

Business Standard Read more about Electrification drive boosts inverter-battery industry on Business Standard. Sector expects 10% CAGR as more households get electricity ...

ThomasNet News (press release) (blog)

ThomasNet News (press release) (blog) Suitable for military, commercial and airborne, land and mobile programs, Model DCS1000T-1, P/N 94039-1 COTS Power Supply offers power factor corrected ...