This inverter can deliver .high-voltage ac or de, with a rectifier and filter, up to several hundred volts. The secondary and primary of T1-a 12.6 to 440 V power transformer, respectively-are reversed; e.g., the primary becomes the secondary and the secondary becomes the primary. Transistors Q1 and Q2 can be any power FET.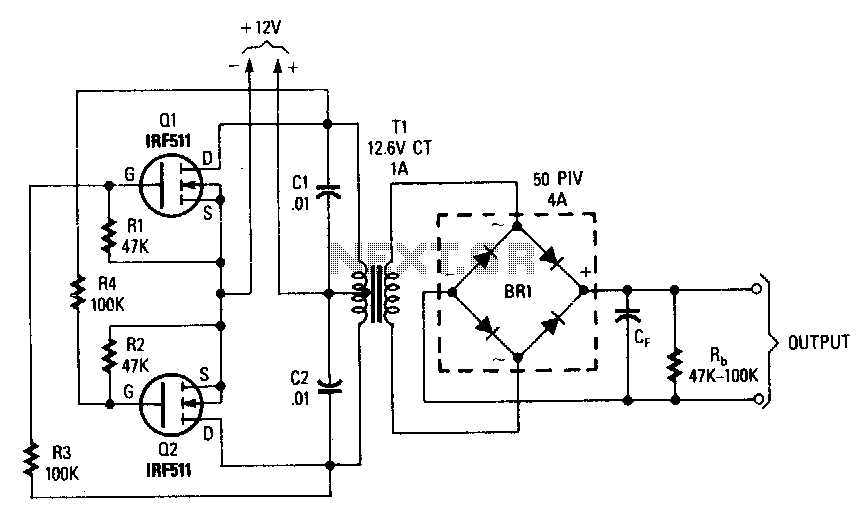 Be sure to heat sink Q1 and Q2. Capacitors C1 and C2 are used as spike suppressors.
Recommended videos
inverter 12v battery to 220v AC using MOSFET

Make an inverter : DIY Experiments #2 - Power AC devices with a battery / homemade inverter

How to Make Inverter at Home - Very Easy to make!
News
Markets Daily

Cree logo Cree, Inc. (NASDAQ:CREE) shares gapped down before the market opened on Thursday after Williams Capital lowered their price target on the stock from $27.00 to $25.00. The stock had previously closed at $21.59, but opened at $22.07. Wil

MENAFN.COM

(MENAFN Editorial) The new, upgraded ECI ings a new dimension to power conversion, allowing for full bi-directionality and multiport use Belgium, April 26 ...

Flyback transformer optimised for industrial applications

Electropages (blog)

Electropages (blog) Used in conjunction with Avago's chipset, the device is suitable for a wide range of industrial applications including , uninterruptible and switch-mode , automation systems, DC-DC converters, renewable energy , and AC

The Cerbat Gem

Cree logo Shares of Cree, Inc. (NASDAQ:CREE) traded down 11.1% on Wednesday following a dissappointing earnings announcement. The stock traded as low as $20.82 and last traded at $22.07, with a volume of 7,809,146 shares changing hands.

HuronReport

HuronReport Cree Inc (NDAQ:CREE) DowngradeJP Morgan gave Cree Inc (NDAQ:CREE) shares a new Neutral rating in a an analyst note sent to investors on Wednesday, ...Cree, Inc. (CREE) Receives Average Rating of "Hold" from AnalystsThe Ce

HuronReport

HuronReport The Company's products are focused for applications, such as indoor and outdoor lighting, video displays, transportation, electronic signs and signals, , and wireless systems. It currently has negative earnings. The Firm has

RealWire (press release)

The new and improved ECI technology offers bi-directionality and multi-directionality on every converter, inging a new dimension to modular and uninterruptible (UPS) with enhanced flexibility and improved efficiency. With

Compound Semiconductor

The products are used to convert power in applications such as , solar , AC-AC converters, industrial converters and electric vehicles. Backed by $70 million from the US Department of Energy over five years, PowerAmerica is

GlobeNewswire (press release)

Orbit's Power Group, also located in Hauppauge, NY, designs and manufactures a wide array of power products including AC , frequency converters, , uninterruptible , VME/VPX as well as various COTS ...