| | | | |
| --- | --- | --- | --- |
| Simple Dc/Ac Inverter Circuit | | | |
This dc-to-ac inverter is based on the popular 555. A 555 oscillator circuit drives a buffer amplifier consisting of Ql, Q2, and Q3. The circuit operates at 150 to 160 Hz. Tl can be a 6.3-V or 12.6-V filament transformer as applicable.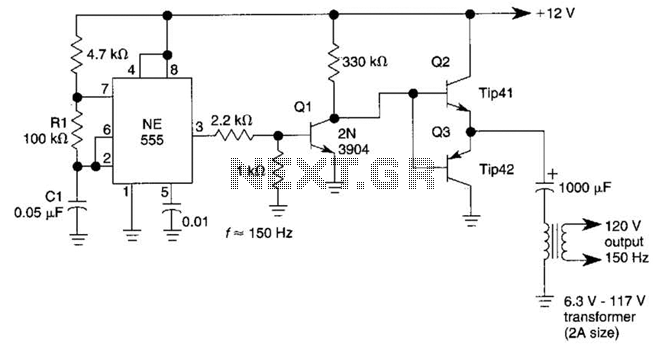 The frequency can be changed by changing the values of Rl and/or Cl.
Recommended videos
Make an inverter : DIY Experiments [#2] Power AC devices with a battery / Simple inverter DIY

inverter 12v battery to 220v AC using MOSFET
News
DailyQuint

Old Mutual Global Investors UK Ltd. cut its position in Cree, Inc. (NASDAQ:CREE) by 36.9% during the third quarter, Holdings Channel reports. The fund owned 164,097 shares of the LED producer's stock after selling 95,996 shares during the period

BBNS

BBNS Cree Inc. (NASDAQ:CREE) had its target price hoisted by Canaccord Genuity to $23.00 in a research report report published on Thursday morning.Cree Inc. (CREE) Scheduled to Post Earnings on Tuesday ...Community Financial NewsThe Cree,

Sports Perspectives

Sports Perspectives Cree logo Cree Inc. (NASDAQ:CREE)'s stock had its "hold" rating reiterated by investment analysts at Canaccord Genuity in a note issued to investors on ...Next Weeks Broker Price Targets For Cree, Inc. (NA

BBNS

BBNS Cree logo OMERS ADMINISTRATION Corp boosted its stake in Cree, Inc. (NASDAQ:CREE) by 51.8% during the third quarter, according to its most recent disclosure with the Securities and Exchange Commission (SEC). The institutional investor ow

GlobeNewswire (press release)

HAUPPAUGE, N.Y., Jan. 18, 2017 (GLOBE NEWSWIRE) -- Orbit International Corp. (OTC PINK:ORBT), an electronics manufacturer and software solution ...

Business Wire (press release)

Cree is a market-leading innovator of lighting-class LEDs, lighting products and semiconductor products for power and radio frequency (RF) applications. Cree believes in better light experiences and is delivering new innovative LED technology th

DailyQuint

Sports Perspectives Texas Permanent School Fund raised its stake in Cree Inc. (NASDAQ:CREE) by 0.0% during the third quarter, Holdings Channel reports. The firm owned 76,827 ...BlackRock Institutional Trust Company N.A. Has $74,647,000 .

Compound Semiconductor

VisIC Technologies, an Israel-based start-up focused on high voltage GaN power semiconductors, has closed $11.6 million in a Series C financing led by a new ...

NewsDen

A number of investment okers have recently updated their price targets on shares of Cree, Inc. (NASDAQ:CREE). Most recent oker ratings. 12/08/2016 ...