| | | | |
| --- | --- | --- | --- |
| 400-Volt 60-watt push-pull power supply | | | |
The design delivers a regulated 400-V, 60-W output. The TL494 switching regulator governs the operating frequency and regulates output voltage. Rl and Cl determine switching frequency, which is approximately 0.SRC—100 kHz for the values shown. The TL494 directly drives the FET's gates with a voltage-controlled, pulse-width-modulated signal. After full-wave rectification, the output waveform is filtered by a choke-input arrangement. The 1 µ, 75 µ¥ filter accomplishes the job nicely at 100 kHz.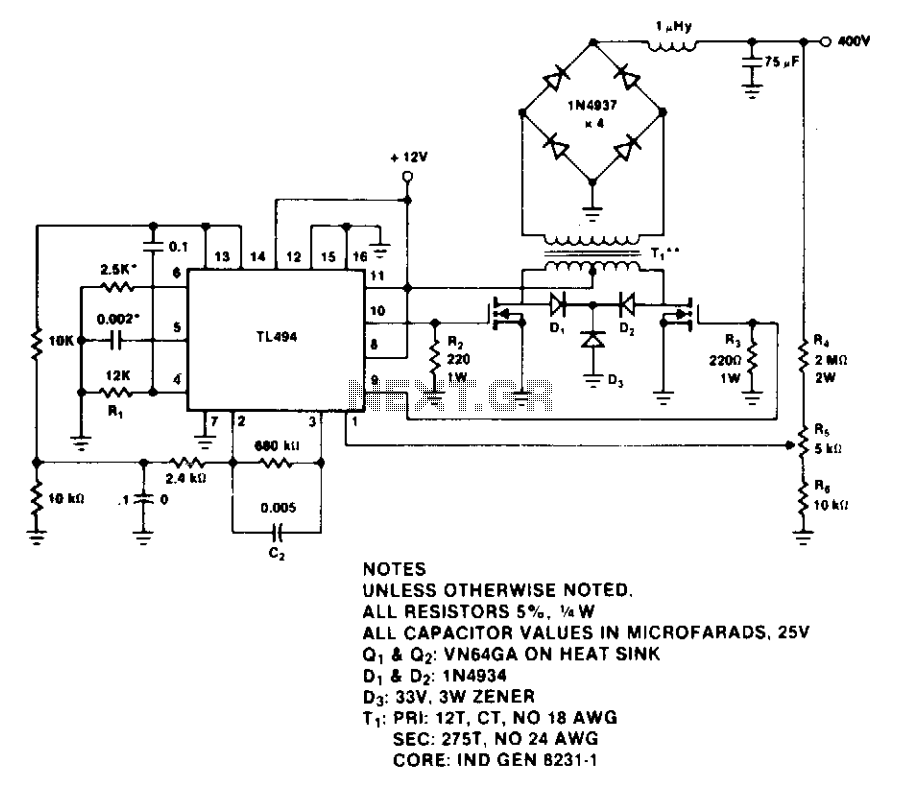 A feedback scheme using R4, R5 and R6 provides for output-voltage regulation adjustment, with loop compensation handled by C2. Diodes Dl and D2 provide isolation and steering for the 33-V zener transient clamp, D3. Output regulation is typically 1.25% from no-load to the full 60-W design rating. Regulation is essentially determined by the TL494. Output noise and ripple consists mainly of positive and negative 0.8-V spikes occurring when the output stage switches.