| | | | |
| --- | --- | --- | --- |
| High Current 13.8V Power Supply | | | |
As is commonly the case, this supply was born of necessity. There is absolutely nothing special about the circuit, except that as shown, it is quite capable of up to 20 Amps intermittently or 10A continuous. Simply use a bigger transformer, bridge rectifier and more capacitors and output transistors to get more current. The basic circuit should be good for up to 100A or so, using a 5A TO3 regulator IC, but it can obviously be increased further (if you really do need a 500A supply!).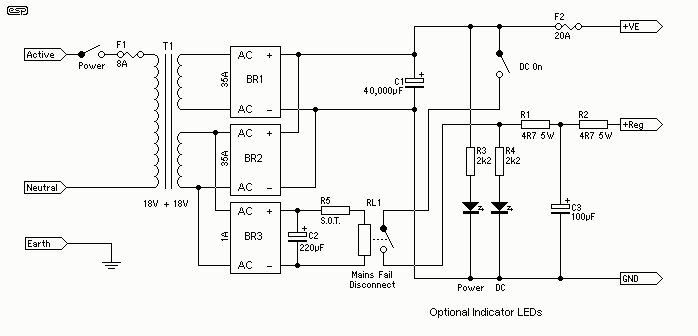 Recommended videos
How to build a high amperage DC power supply.

Tutorial: How to build and design an AC to DC Power Adapter / Supply

12V 10AMP DC Power Supply
News
Marketwired (press release)

... (www.belpowersolutions.com) engineering experts will be on-hand to answer questions about our latest datacenter portfolio which has been expanded to include a wide range of , PDU's, Power Shelves and other products to address , ...

Global Sources

Global Sources Choke Coils · Choke Coils, Used in Line Noise Suppression, · Inquire Now · Common Mode ... Top 20 Most Popular: · Interconnects · Electromechanicals · LEDs & Optoelectronics &midd

PR Newswire (press release)

PR Newswire (press release) Solutions to its Americas Product OfferingThese partnerships are longstanding relationships with multiple manufacturers, each with a unique set of expertise: and DC/AC converters, from 10 W to 75,000 W. are

Business Wire (press release)

Business Wire (press release) The PA441xNL series is comprised of two THT common mode chokes (PA4415NL and PA4416NL) that are ideally suited for customers designing their own EMI filter for or DC/AC . Notable features and benefits include ve

EDN.com

The new technology automatically sets to the "mains" grid around the world, and has a "sleep" mode, which uses only ½ milliwatt of standby power in the U.S. and less than 1 milliwatt in the rest of the world, solv

Airforce Technology

Airforce Technology SinePower is a specialist developer and manufacturer of uninterruptible , frequency inverters and converters, and related electronic solutions. The company offers a complete range of power solutions for airforces worldwide

EDN.com

converters boost efficiency in Recently, a fabless semiconductor company called Semitrex, claims to be making headway toward solving the major power issue of our time: energy efficient . The method on which this company is focusing is calle

Business Wire (press release)

Business Wire (press release) Comments Andrew Smith, product marketing manager for Power Integrations: " are often the weak link in LED lamps. This is especially true for industrial and infrastructure lighting applications where difficu

Ferret

Ferret with Integrated Backup Battery ChargingThe POWERTERM /Charger range offers a complete power solution for small battery-backed dc instrument power systems such as SCADA RTU's, Data-loggers, Access Control Systems and Remote Instrum