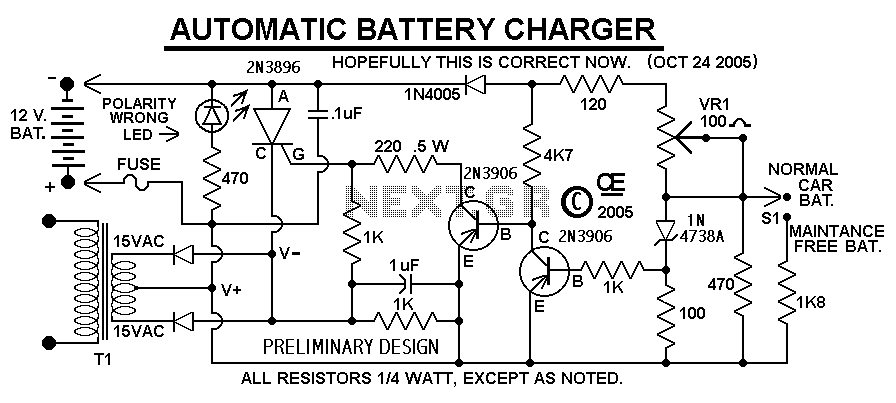 There is No Amp-Meter shown, But I would Definately recommend including one in either the positive or negative line, going to the battery. The Transformer, Diodes and SCR, Must be caplable of handling the output current. And Don't use a 10 amp transformer. If you expect to charge battery's at 10 amps, Allow youself a Safety margin! Use a 15 Amp transformer. Also the Diodes and SCR will Definately require a Suitable, LARGE Heat Sink! The 100 ohm trimpot on the PCB sets the Maximum Charge Voltage. To set this Correctly, attach a Fully charged battery to the output. Than using a meter to monitor the output,Set the trimpot to give an output of 14.5 volts at Very Near ZERO CURRENT. I Show a Center Tapped Transformer and two Diodes, But a Single output, 16 Volt transformer could be use with a full wave bridge rectifier. Some manufacturers recommend Charges with a Low Output, AC Ripple content. If this concerns you, You can add a large Filter Cap across the output. However this Capacitor will NOT be Protected by a reversed battery, unless it is connect before the fuse in that line.
Recommended videos
How to make a 12 Volt car battery charger

How To Jump Start a Car In 5 Minutes ! - With DIY SMPS Dead Car Battery Charger
News
Earnings Call Transcript

Seeking Alpha

Industrial revenues also contributed to the strong results, growing mid-teens year-over-year, driven by a oad range of applications, including utility meters, industrial control applications and fast-growing vertical markets, such as for

Marketwired (press release)

Flashing Modest Growth, Reports BCC ResearchUniversal Serial Bus (USB) Battery : International Technologies and Market Potential (FCB042A) analyzes the market, including original equipment manufacturer (OEM) and aftermarket (e.g., USB comp

PR Newswire (press release)

NEW YORK, Oct. 24, 2016 /PRNewswire/ -- This BCC Research report tracks USB market, discusses competitors, details target applications and profiles ...

All About Circuits

... in the power electronics market where they significantly improve switching performance and thus boost efficiency for motor control and power conversion circuits in power factor correction (PFC) , , photovoltaic inverters, and

SemiEngineering

SemiEngineering GaN Power Semi Biz Heats Up Technology makes inroads in power supply market, with electric vehicles and fast-charging adapters on the horizon.

Electronics Weekly

Electronics Weekly includes MPUAnd as a battery it is "configurable for any charging profile and any battery chemistry, voltage, or cell arrangement." The devices cover an input range of 4.5-42V, and the difference between t

9 to 5 Mac

9 to 5 Mac & cables sold on Amazon are fake, says AppleThere's no shortage of third-party and cables sold for Apple equipment, some of them claiming to be the genuine article, but Apple has found that even Amazon has been selling co

Electronics EETimes (registration)

IT News Africa ITU, the International Telecommunications Union, from its Geneva UQ, has approved an environmentally friendly standard for a universal charger for laptops and ...Universal laptop chargers have been standardised | IT News A

EDN Europe (registration) (blog)

ITU, the International Telecommunications Union, from its Geneva UQ, has approved an environmentally friendly standard for a universal charger for laptops and ...