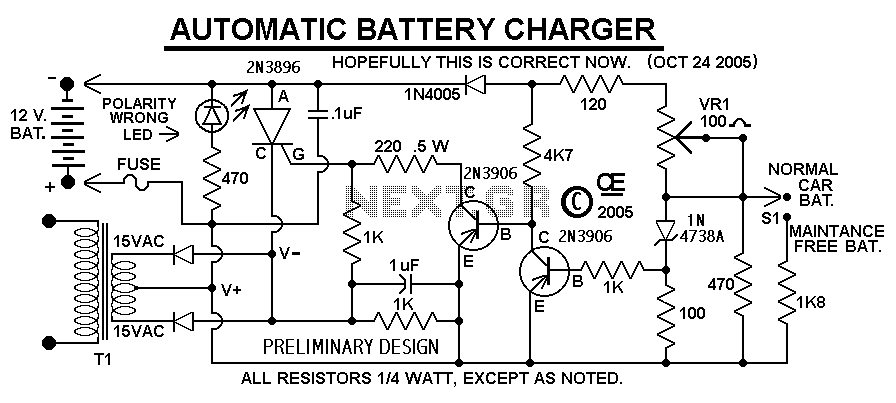 There is No Amp-Meter shown, But I would Definately recommend including one in either the positive or negative line, going to the battery. The Transformer, Diodes and SCR, Must be caplable of handling the output current. And Don't use a 10 amp transformer. If you expect to charge battery's at 10 amps, Allow youself a Safety margin! Use a 15 Amp transformer. Also the Diodes and SCR will Definately require a Suitable, LARGE Heat Sink! The 100 ohm trimpot on the PCB sets the Maximum Charge Voltage. To set this Correctly, attach a Fully charged battery to the output. Than using a meter to monitor the output,Set the trimpot to give an output of 14.5 volts at Very Near ZERO CURRENT. I Show a Center Tapped Transformer and two Diodes, But a Single output, 16 Volt transformer could be use with a full wave bridge rectifier. Some manufacturers recommend Charges with a Low Output, AC Ripple content. If this concerns you, You can add a large Filter Cap across the output. However this Capacitor will NOT be Protected by a reversed battery, unless it is connect before the fuse in that line.
Recommended videos
Populaire video

How to make a 12 Volt car battery charger

How To Jump Start a Car In 5 Minutes ! - With DIY SMPS Dead Car Battery Charger
News
EETE Power Management (registration)

The improved switching speed can also contribute to the efficiency of the designs. The MOSFETs are suited for use in industrial , standby for servers, adaptors and of notebook PCs and mobile devices, and ...

Electronics News

Electronics News Its improved high speed switching can also contribute to the efficiency of the of the sets that it is used in. The MOSFETs are suited for use in industrial , standby for servers, adaptors and of

Business Wire (press release)

Toshiba announced the launch of 800V super junction N-channel power MOSFETs for high efficiency power supplies with improved low on-resistance and hig.

Electronics Weekly

Electronics Weekly

Intersil announces a 3.6V single-cell battery charger for lithium iron phosphate (LiFePO4) cells.

EETE Power Management (registration)

The MOSFETS also provide the higher output and voltage required in USB 3.0 related applications and are aimed at fast , switched-mode and DC-DC converters for servers and communication equipment. The two new ...

Yahoo Finance

Yahoo Finance Toshiba Corporation's Storage & Electronic Devices Solutions Company today expanded its line-up of low-voltage N-channel power MOSFETs with the addition ...

Embedded Computing Design (blog)

help save the planet?Power electronics and controllers are at the heart of green power systems for lighting, , and device , making it possible to save energy practically anywhere and every time they are used. "Smart" electric a

Natural Resources Defense Council

Natural Resources Defense Council The U.S. Department of Energy has issued the first-ever energy efficiency standards for uninterruptible power supplies (UPSs), the battery backup systems that ...

Benzinga

This new smart charging approach relies on a standardized charging interface defined by the following new IEC International Standards: IEC 62680-1-3 and ...