A 555 timer (IC1) generates a 120-Hz signal that is fed to a CD4013BE flip-flop (ICl-a), which divides the input frequency by two to generate a 60-Hz clocking frequency for the FET array (Ql through Q6).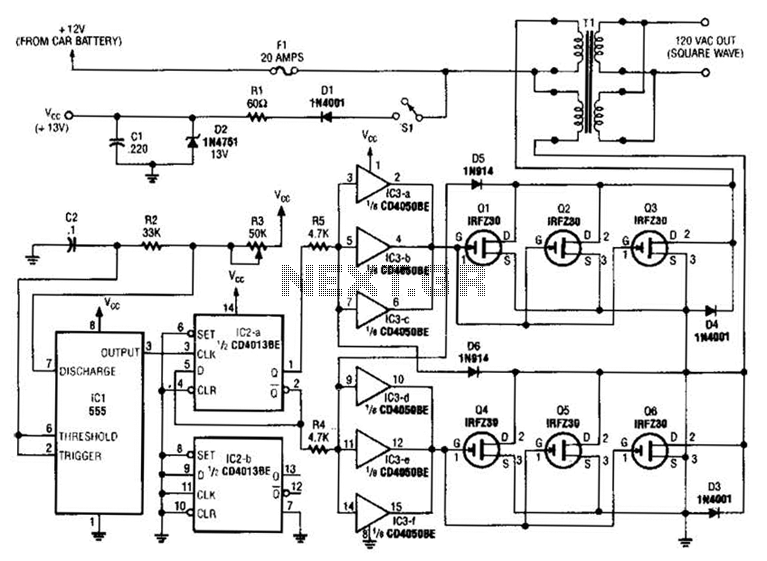 Transformer Tl is a 12-/24-V center-tapped 60-Hz transformer of suitable size.
Recommended videos
AC Circuits, Transformerless Power Supplies,

Make an inverter : DIY Experiments [#2] Power AC devices with a battery / Simple inverter DIY

How To Make 12v-35 v UPS Battery Backup Power Supply Circuit Diagram Tutorial
News
BBNS

BBNS Cree Inc. (NASDAQ:CREE) had its target price hoisted by Canaccord Genuity to $23.00 in a research report report published on Thursday morning.Cree Inc. (CREE) Scheduled to Post Earnings on Tuesday ...Community Financial NewsThe Cree,

Sports Perspectives

Sports Perspectives Cree logo Cree Inc. (NASDAQ:CREE)'s stock had its "hold" rating reiterated by investment analysts at Canaccord Genuity in a note issued to investors on ...Analyst Activity – Canaccord Genuity Reitera

BBNS

BBNS Cree logo OMERS ADMINISTRATION Corp boosted its stake in Cree, Inc. (NASDAQ:CREE) by 51.8% during the third quarter, according to its most recent disclosure with the Securities and Exchange Commission (SEC). The institutional investor ow

DailyQuint

... semiconductor products for power and radio-frequency (RF) applications. The Company's products are focused for applications, such as indoor and outdoor lighting, video displays, transportation, electronic signs and signals,

GlobeNewswire (press release)

HAUPPAUGE, N.Y., Jan. 18, 2017 (GLOBE NEWSWIRE) -- Orbit International Corp. (OTC PINK:ORBT), an electronics manufacturer and software solution ...

Business Wire (press release)

Cree is a market-leading innovator of lighting-class LEDs, lighting products and semiconductor products for power and radio frequency (RF) applications. Cree believes in better light experiences and is delivering new innovative LED technology th

DailyQuint

Sports Perspectives Texas Permanent School Fund raised its stake in Cree Inc. (NASDAQ:CREE) by 0.0% during the third quarter, Holdings Channel reports. The firm owned 76,827 ...BlackRock Institutional Trust Company N.A. Has $74,647,000 .

Compound Semiconductor

VisIC Technologies, an Israel-based start-up focused on high voltage GaN power semiconductors, has closed $11.6 million in a Series C financing led by a new ...

NewsDen

A number of investment okers have recently updated their price targets on shares of Cree, Inc. (NASDAQ:CREE). Most recent oker ratings. 12/08/2016 ...