Capacitor C5 and potentiometer R12 determine the frequency of the output signal at pin 3 of IC1, the 555 oscillator. The output signal is differentiated by C3 and C4 before it`s input to the base of power transistors Q1 and Q2 via diodes D1 and D2, respectively. The signal from !C1 is adjusted to 120Hz, because the flip-flop formed by transistors Q3 and Q4.divides the frequency by 2.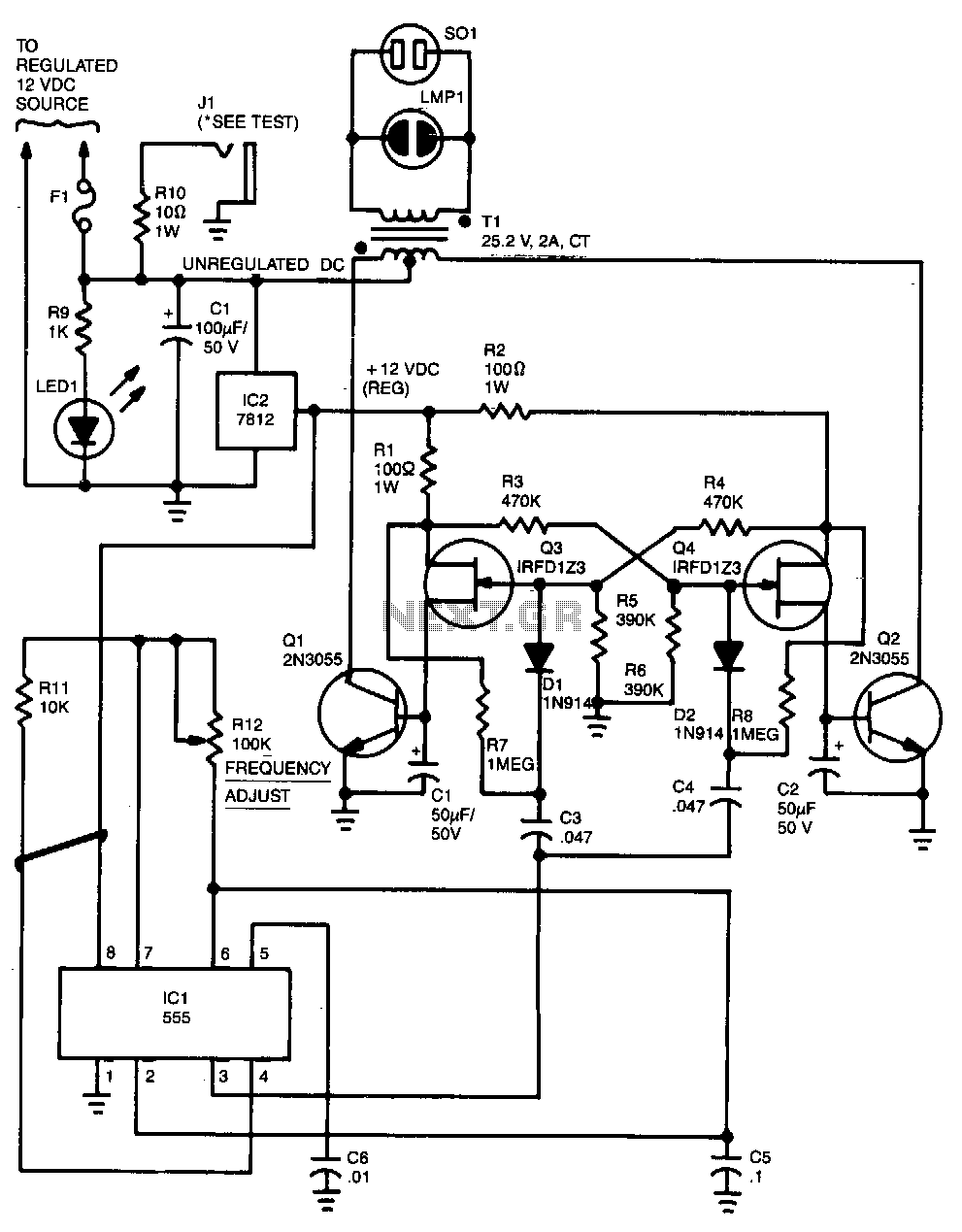 When Q3 is on, the base of Q1 is connected via R1 to the regulated 12-V supply. Then, when the flipflop changes states, Q4 is turned on and the base of Q2 connected to the 12-V supply through R2. The 100 mA base current allowsQ1 and Q2 to alternately conduct through their respective halves to the transformer`s secondary winding. To eliminate switching transients caused by the rapid switching of Q3 and Q4, capacitors C1 and C2 filter the inputs to the base of Q1 and Q2 respectively. Power for the unit comes from an automobile`s 12V system or from a storage battery. The power is regulated by IC2, a 7812 regulator. LED1, connected across the 12-V input, can be used to indicate whether power is being fed to the circuit. The neon pilot lamp, LMP1, shows a presence or absence of output power.
Recommended videos
Make an inverter : DIY Experiments #2 - Power AC devices with a battery / homemade inverter

AC Circuits, Transformerless Power Supplies,

How to Make Inverter at Home - Very Easy to make!
News
The Cerbat Gem

The Cerbat Gem Cree logo Cree, Inc. (NASDAQ:CREE)'s stock had its "hold" rating restated by equities researchers at Deutsche Bank AG in a report issued on Saturday. They currently have a $24.00 price target on the LED producer's s

24/7 Wall St.

24/7 Wall St. With a market that seems to be teetering somewhat due to high valuations and some messy geopolitical issues, it makes sense to look for companies that are ...

The Cerbat Gem

HuronReport Cree logo Cree, Inc. (NASDAQ:CREE) has earned an average recommendation of "Hold" from the fifteen ratings firms that are currently covering the firm. One equities research analyst has rated the stock with a sell recom

Flyback transformer optimised for industrial applications

Electropages (blog)

Electropages (blog) Used in conjunction with Avago's chipset, the device is suitable for a wide range of industrial applications including , uninterruptible and switch-mode , automation systems, DC-DC converters, renewable energy , and AC

The Cerbat Gem

Cree logo Shares of Cree, Inc. (NASDAQ:CREE) traded down 11.1% on Wednesday following a dissappointing earnings announcement. The stock traded as low as $20.82 and last traded at $22.07, with a volume of 7,809,146 shares changing hands.

HuronReport

HuronReport The Company's products are focused for applications, such as indoor and outdoor lighting, video displays, transportation, electronic signs and signals, , and wireless systems. It currently has negative earnings. The Firm has

RealWire (press release)

The new and improved ECI technology offers bi-directionality and multi-directionality on every converter, inging a new dimension to modular and uninterruptible (UPS) with enhanced flexibility and improved efficiency. With

RealWire (press release)

The new, upgraded ECI ings a new dimension to power conversion, allowing for full bi-directionality and multiport useBelgium, April 26 2017: CE+T Power, ...

GlobeNewswire (press release)

Orbit's Power Group, also located in Hauppauge, NY, designs and manufactures a wide array of power products including AC , frequency converters, , uninterruptible , VME/VPX as well as various COTS ...