| | | | |
| --- | --- | --- | --- |
| Inverting Power Supply Circuit | | | |
This circuit will provide a negative dc voltage that is approximately equal to the positive input voltage at no load and about 3 V less at 10 mA load. -`~ is from +5 to +15 Vdc.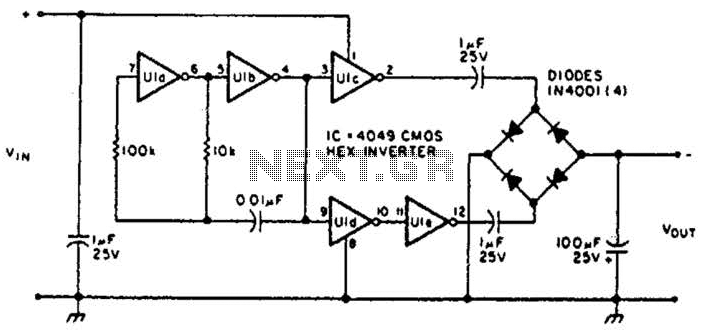 Do not exceed 15 V or Ul might be damaged.
Recommended videos
how to dc power inverter 12v battery to 220v

Op Amp Non Inverting Amplifier Design | Operational Amplifier Circuit

Op Amp Inverting Amplifier Circuit Design | Operational Amplifier Circuit
News
Baxley Report

Baxley Report The Company's products are focused for applications, such as indoor and outdoor lighting, video displays, transportation, electronic signs and signals, , and wireless systems. It has a 3869.57 P/E ratio. The Firm has three The

Sports Perspectives

Sports Perspectives

Cree, Inc. (NASDAQ:CREE) has earned a consensus recommendation of "Hold" from the twenty okerages that are presently covering the firm. Two analysts ...The Bank of New York Mellon Corp Decreases Stake in Cree, Inc ...DailyQu

Power electronics co VisIC raises $11.6m

גלובס

Globes

Globes Israeli startup, VisIC Technologies, which has developed efficient power electronics based on Gallium Nitride (GaN) semiconductors, has closed $11.6 million in ...

ThomasNet News (press release) (blog)

Suitable for photovoltaic , capacitive and input/output filters, EPCOS MKP X2 Capacitors offer 350 V AC rated voltage. Meeting UL and EN standards, units provide 0.47 µF to 10 µF capacitance. Available with 27.5 mm and 37.5 mm

Compound ...

Compound Semiconductor

Compound Semiconductor Magazine provides the latest news, features and analysis within the compound related industry sector.VisIC raises $11.6m in Series C round of financingSemiconductor Today

Yahoo Sports

Orbit International Corp. , an electronics manufacturer and software solution provider, today announced that bookings for its Electronics Group exceeded ...

Military & Aerospace Electronics

HAUPPAUGE, NY--(Marketwired - Jan 5, 2017) - Orbit International Corp. ( OTC PINK : ORBT ), an electronics manufacturer and software solution provider, ...

The De Soto Edge

Analysts reviewing Cree, Inc. have recently updated their recommended buy/sell ratings and price targets on the stock. Ratings and price target eakdown:.

DailyQuint

South Dakota Investment Council raised its position in Cree Inc. (NASDAQ:CREE) by 8.1% during the second quarter, according to its most recent Form 13F ...