| | | | |
| --- | --- | --- | --- |
| Simple Dc/Ac Inverter Circuit | | | |
This dc-to-ac inverter is based on the popular 555. A 555 oscillator circuit drives a buffer amplifier consisting of Ql, Q2, and Q3. The circuit operates at 150 to 160 Hz. Tl can be a 6.3-V or 12.6-V filament transformer as applicable.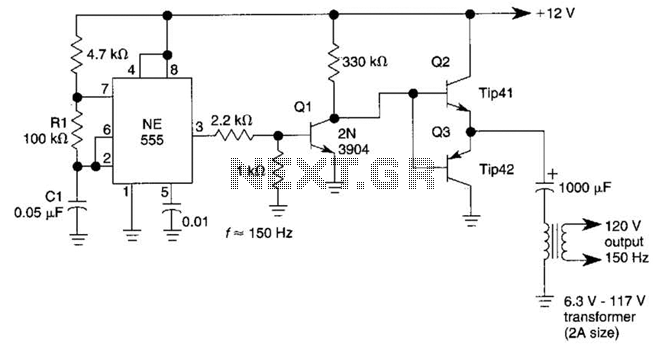 The frequency can be changed by changing the values of Rl and/or Cl.
Recommended videos
Make an inverter : DIY Experiments [#2] Power AC devices with a battery / Simple inverter DIY

How to Make Simple DC to AC Inverter. ᴴᴰ

INVERTER 12V IN 230V OUT class="accessible-description" id="description-id-496090"> - Afspeellijst
News
The Cerbat Gem

The Cerbat Gem Cree, Inc. (NASDAQ:CREE)'s stock had its "hold" rating restated by equities researchers at Deutsche Bank AG in a report issued on Saturday. They currently ...Cree, Inc. (CREE) Stock Rating Reaffirmed by Deutsch

Electropages (blog)

Electropages (blog) The new and improved ECI technology offers bi-directionality and multi-directionality on every converter, inging a new dimension to modular and uninterruptible (UPS) with enhanced flexibility and improved efficiency. Wit

The Cerbat Gem

The Cerbat Gem Cree logo Cree, Inc. (NASDAQ:CREE) has earned an average recommendation of "Hold" from the fifteen ratings firms that are currently covering the firm. One equities research analyst has rated the stock with a sell re

Flyback transformer optimised for industrial applications

Electropages (blog)

Electropages (blog) Used in conjunction with Avago's chipset, the device is suitable for a wide range of industrial applications including , uninterruptible and switch-mode , automation systems, DC-DC converters, renewable energy , and AC

The Cerbat Gem

Cree logo Shares of Cree, Inc. (NASDAQ:CREE) traded down 11.1% on Wednesday following a dissappointing earnings announcement. The stock traded as low as $20.82 and last traded at $22.07, with a volume of 7,809,146 shares changing hands.

HuronReport

HuronReport The Company's products are focused for applications, such as indoor and outdoor lighting, video displays, transportation, electronic signs and signals, , and wireless systems. It currently has negative earnings. The Firm has SEC

RealWire (press release)

The new, upgraded ECI ings a new dimension to power conversion, allowing for full bi-directionality and multiport useBelgium, April 26 2017: CE+T Power, ...

Yahoo Finance

Solid State Lighting Design Cree's products are driving improvements in applications such as general illumination, electronic signs and signals, and . For additional product and Company information, please refer to www.cree.com. This press r

GlobeNewswire (press release)

Orbit's Power Group, also located in Hauppauge, NY, designs and manufactures a wide array of power products including AC , frequency converters, , uninterruptible , VME/VPX as well as various COTS ...