| | | | |
| --- | --- | --- | --- |
| Self switching Power Supply | | | |
One of the main features of the regulated power supply circuit being presented is that though fixed-voltage regulator LM7805 is used in the circuit, its output voltage is variable. This is achieved by connecting a potentiometer between common terminal of regulator IC and ground. For every 100-ohm increment in the in-circuit value of the resistance of potentiometer VR1, the output voltage increases by 1 volt. Thus, the output varies from 3.7V to 8.7V (taking into account 1.3-volt drop across diodes D1 and D2).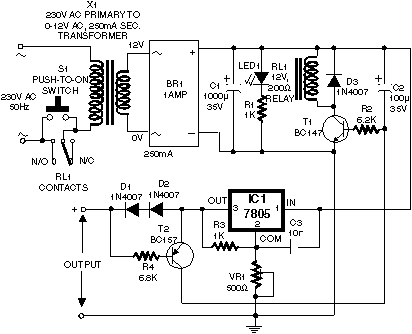 Another important feature of the supply is that it switches itself off when no load is connected across its output terminals. This is achieved with the help of transistors T1 and T2, diodes D1 and D2, and capacitor C2. When a load is connected at the outp