A shows a COR/CAS circuit for repeater use. CR1 is a silicon diode. 2 may be any relay with a 12-V coil (a long-life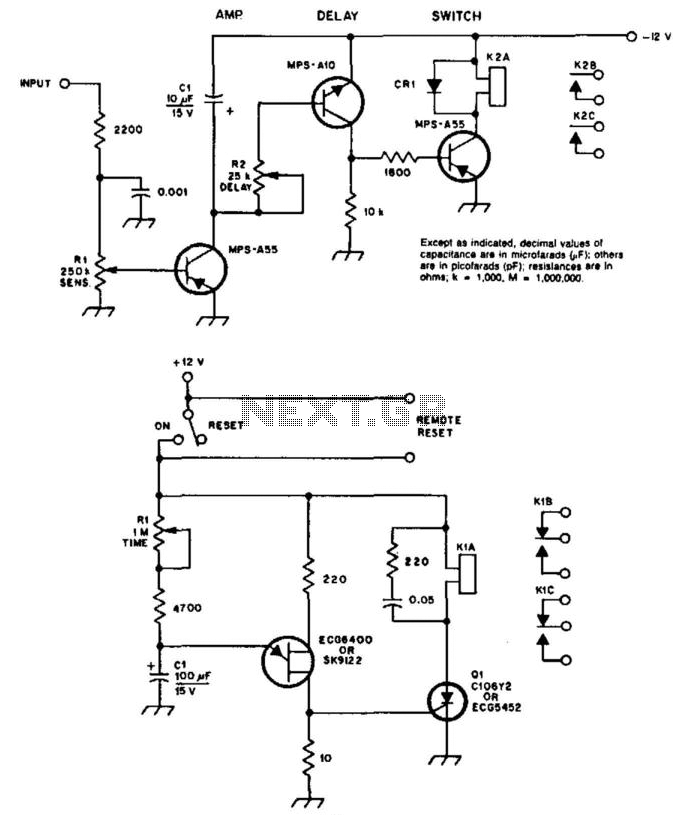 reed relay is best). R2 sets the length of time that K2 remains closed after the input voltage disappears (hang time). shows a timer circuit. Values shown for Rl and CI should provide timing up to four minutes or so. CI should be a low-leakage capacitor; Ql is a silicon-controlled rectifier, ECG-5452 or equivalent. Kl may be any miniature relay with a 12-volt coil. The timer is reset when the supply voltage is momentarily interrupted. The switch must be in the reset position for the remote reset to work. This circuit operates from the detector output of a receiver. A delay circuit is included so that the relay stays closed for a time period after the carrier output from the receiver disappears.
News
The Australian

And PNG is shifting rapidly into election , its five-yearly poll due in the middle of next year. ... system has always been weak — and has been further undermined since the last election by the Supreme Court's ruling that legislation imple

Earnings Call Transcript

Seeking Alpha

Ladies and gentlemen, thank you for standing by. Welcome to the CoStar Realty Information Conference Call. At this time, all participants are in a listen-only . Later, we will conduct a question-and-answer session and instructions will be given

Hackaday

Hackaday The Apple PSU is a - design. Ubiquitous today but still a ... If you are tempted to look inside a mains you should not necessarily be put off by the fact it handles mains voltage as long as you treat it with respect. Don't power

Thurrott.com (blog)

Thurrott.com (blog) (Minus "," which requires USB-C.) Most of the other choices are self-explanatory. Transfer files. When selected, the Android file system will appear and you can owse around normally, copy ... But as a general r

Tom's Hardware

Tom's Hardware The TS-453A features four gigabit Ethernet ports that support several independent and shared , including 802.3ad (link aggregation). Many of the accelerate network bandwidth without a that supports active-active , but you won

Car and Driver

Car and Driver There were cars that combined electric and gasoline engines as early as 1896, and several were offered before 1910, but most needed the driver to choose one or the other. Toyota was "first" with a modern hyid that ... Ignition

Notebook Review

Notebook Review The iPhone SE smartphone ships with a standard 5W USB outlet , Lightning-to-USB cable, and earbud headphones. The headphones are Apple's iconic EarPods with in-line ... We regularly experienced problems getting people to hear

USA TODAY

USA TODAY Chicago Bears – Jack Conklin, T, Michigan State: One way to prevent another regression by QB Jay Cutler, who's been forced to endure another offensive coordinator , is to fill the vacuum on his blind side. 12. New Orleans Sain

EE Times

EE Times Most designers have encountered ringing in - converters. This ringing can generate radiated and conducted noise, cause circuit jitter, over-stress components, and create excessive dissipation. This is often a major concern in .