This is a nice 2 Watts FM transmitter. It has a Super-Sensitive pre-amplification with BC109 and BC177 with more than 100% signal modulation. The job finish the 2N2219 by Motorola. For the Coils you should use 1mm wire(enameled), L1= 3 turns - 10mm diameter, L2= 1 turn - 10mm diameter. R9 trimmer controls the modulation gain. The tunning is easy by controlling C9 trimmer (88-108 MHz). The RFC J should be the VK220J with ferrite (VK200 is not suitable).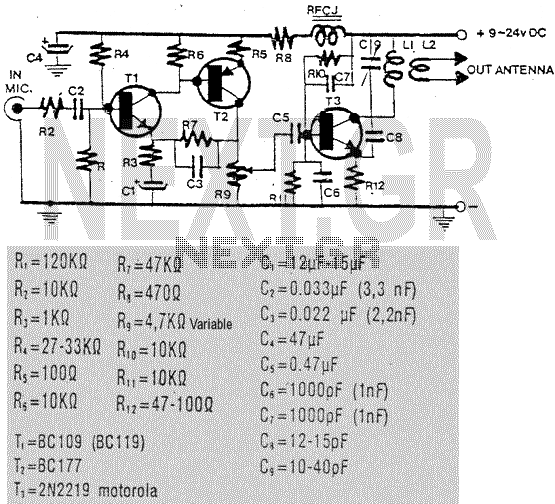 You will be amazed how well this little monster can transmit several kilometers excellent quality sound. Feed input from a simple cd player or PC (win amp) or just connect a microphone. Enjoy!
Recommended videos
1W FM Amplifier Circuit (Boost Low Power Transmitters)

FM Transmitter Long range with circuit ,component list ,assembly instruction for 2 KM range

FM Transmitter Tip: No More Static!
News
Radio magazine

Any transmitter setting can also be scheduled from program sources to power. WorldCast will offer the new audio processor software feature on new units and as an upgrade to many Ecreso currently in the field. WorldCast Systems will ...

RF Globalnet (press release)

The Bridgeport site is one of several locations that will see a complete replacement of systems, including a modernized building to house all transmission, auxiliary and cooling systems. All will be outfitted with the HD Radio

Radio magazine

In many cases, the GatesAir transmitters will replace aging tube models, which will help with Cumulus' goal of reducing operational expense and energy use in its plants as part of the oadcaster's sustainability efforts. The order includes air <

Radio World

Over the last few years, we have added smaller sites to our network and therefore needed to source some lower-power (up to 2 kW) for these locations. Many of these sites are unmanned, thus it was essential to have a high level of

Radio magazine

11, all NRK, P4 and Radio Norway were shut down in that region. All local stations in Nordland continue to transmit on FM, as will the majority of all local radio stations in Norway. NRK also states that there has been no dramatic drop

Radio magazine

Radio magazine CBS Radio owns and operates five stations in Sacramento, Calif.: KSFM(FM), KZZO(FM) and KYMX(FM) reside in one facility, while KHTK(AM) and KNCI(FM) are based in another facility roughly 10 miles away. The KHTK(AM) and KNCI(FM)

Radio World

KCRW is a six-station cluster consisting of KCRW, Santa Monica, KDRW, Santa Barbara, KCRU, Oxnard, KCRY, Mojave & KCRI, Indio, and KERW, Los Osos-Baywood Park. Additionally it operates seven low power translator stations in the communities o

Radio World

Eric Pere: Generally, operate far more efficiently than DTV or DAB transmitters so, the advantages of water cooling aren't as significant in the FM sphere. If a manufacturer ..... Fewer engineers entering the market today do so as

EE Times

EE Times Power AmpsThese amplifiers are sold as components of , which are FCC certified for sale in the U.S. The issue, according to the citation, is that although the containing the amplifiers are FCC certified, the power amplifiers do