The FM Snooper is an FM transmitter that radiates a continuous wave whose frequency is altered according to the sound waves striking the microphone. An ordinary FM broadcast receiver detects the transmitter`s output carrier. When 9-V battery, B1, is connected, a brief surge of current flows from the collector to the emitter of Q1, causing an alternating current, shock oscillation in the resonant LC circuit, to flow back and forth between L1 and C5.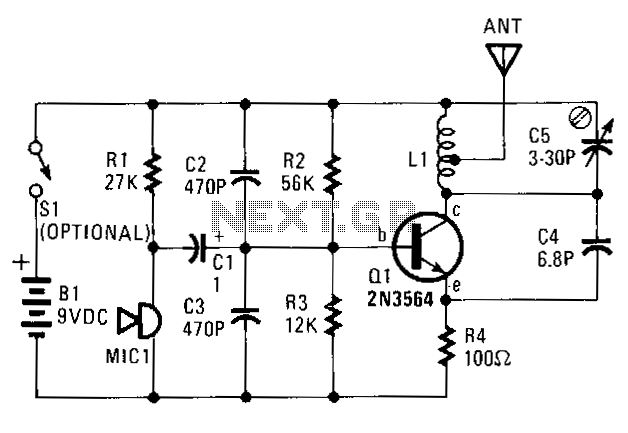 So, by varying the value of C5, you can tune the oscillations to the exact frequency desired. Although tuning capacitor C5 accounts for the major part of the tuning capacitance, the capacitance between the base and the collector of Q1 has a small, but noticeable, effect on the oscillation frequency. That capacitance. which is known as the junction capacitance, is not a fixed value, but instead varies when the voltage on the base of the transistor varies. Sound waves striking the microphone induce a voltage that varies in time with the sound. That voltage is applied via C1 to the base of Q1, thereby frequency modulating the transmitter.
Recommended videos
FM Transmitters/RF Amplifiers/Antennas class="accessible-description" id="description-id-636356"> - Afspeellijst
RF Low Pass Filter for FM Transmitters (88-108mhz)
How much RF power in a tiny FM transmitter ?
News
Radio magazine

Any transmitter setting can also be scheduled from program sources to power. WorldCast will offer the new audio processor software feature on new units and as an upgrade to many Ecreso currently in the field. WorldCast Systems will ...

RF Globalnet (press release)

The Bridgeport site is one of several locations that will see a complete replacement of systems, including a modernized building to house all transmission, auxiliary and cooling systems. All will be outfitted with the HD Radio

Radio magazine

In many cases, the GatesAir transmitters will replace aging tube models, which will help with Cumulus' goal of reducing operational expense and energy use in its plants as part of the oadcaster's sustainability efforts. The order includes air <

Radio World

Over the last few years, we have added smaller sites to our network and therefore needed to source some lower-power (up to 2 kW) for these locations. Many of these sites are unmanned, thus it was essential to have a high level of

Radio magazine

11, all NRK, P4 and Radio Norway were shut down in that region. All local stations in Nordland continue to transmit on FM, as will the majority of all local radio stations in Norway. NRK also states that there has been no dramatic drop

Radio World

KCRW is a six-station cluster consisting of KCRW, Santa Monica, KDRW, Santa Barbara, KCRU, Oxnard, KCRY, Mojave & KCRI, Indio, and KERW, Los Osos-Baywood Park. Additionally it operates seven low power translator stations in the communities o

Radio World

Eric Pere: Generally, operate far more efficiently than DTV or DAB transmitters so, the advantages of water cooling aren't as significant in the FM sphere. If a manufacturer ..... Fewer engineers entering the market today do so as

EE Times

EE Times Power AmpsThese amplifiers are sold as components of , which are FCC certified for sale in the U.S. The issue, according to the citation, is that although the containing the amplifiers are FCC certified, the power amplifiers do

Radio magazine

Radio magazine ... connected media, cybersecurity, digital dashboard, drones, FCC technical regulatory issues, internet of things, leveraging social platforms, live streaming, music licensing, podcasting, programmatic media, radio technology,