A simple FM wireless microphone uses a single BC183C transistor as an audio amplifier. A 2N3565 can be substituted.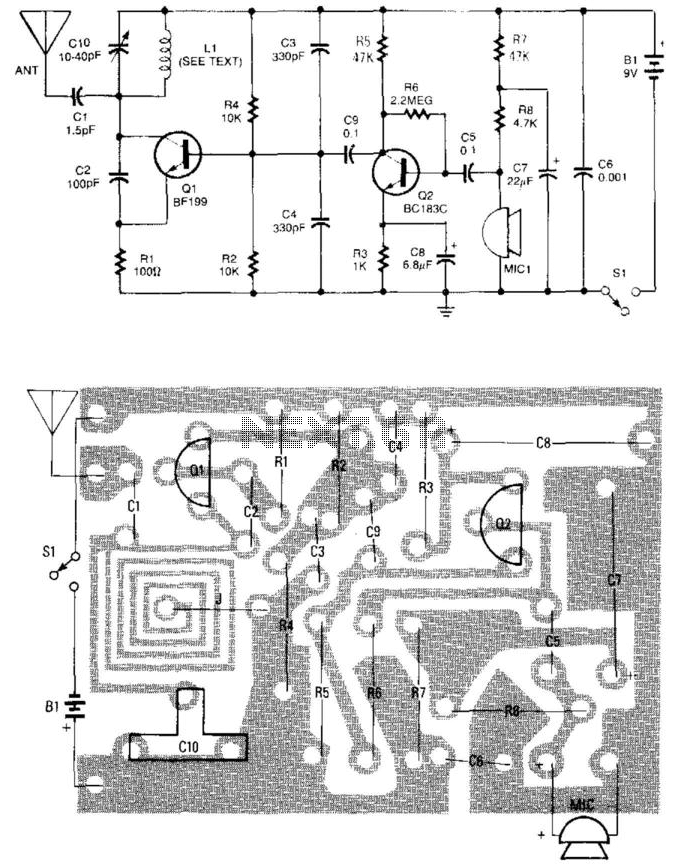 Ql is an oscillator that is FM modulated by the signal from Ql. Other transistors can be substituted, but the modulation characteristics should be checked.
Recommended videos
Build A Long Range FM Transmitter (Spybug)

Banggoods FM Transmitter Module.is it any good?
News
Radio magazine

In many cases, the GatesAir transmitters will replace aging tube models, which will help with Cumulus' goal of reducing operational expense and energy use in its plants as part of the oadcaster's sustainability efforts. The order includes air <

Radio magazine

The Bridgeport site is one of several locations that will see a complete replacement of systems, including a modernized building to house all transmission, auxiliary and cooling systems. All will be outfitted with the HD Radio

RadioandMusic.com

RadioandMusic.com Listing various achievements as an outcome of measures taken in recent years, he said as far as All India Radio was concerned, a total of 610 (MW-143, SW-48, FM-419) which included 195 100 W had been commissioned by 10 Feua

Radio World

I also grounded the unipole feed on the troubled tower to keep AM voltages to a minimum while workers were on it. Grounding was by a ... transmit antennas. The had to be reduced in power or completely shut down for much of the project.<

Radio magazine

11, all NRK, P4 and Radio Norway were shut down in that region. All local stations in Nordland continue to transmit on FM, as will the majority of all local radio stations in Norway. NRK also states that there has been no dramatic drop

Radio magazine (blog)

NDTV GatesAir recently upgraded the Swedish — and now I can get very good FM signal quality from the Swedish channels long inside Norway. Sweden was always in front of radio content and in the 60s and 70s Swedish Radio was very popular

Radio World

KCRW is a six-station cluster consisting of KCRW, Santa Monica, KDRW, Santa Barbara, KCRU, Oxnard, KCRY, Mojave & KCRI, Indio, and KERW, Los Osos-Baywood Park. Additionally it operates seven low power translator stations in the communities o

Radio World

Eric Pere: Generally, operate far more efficiently than DTV or DAB transmitters so, the advantages of water cooling aren't as significant in the FM sphere. If a manufacturer ..... Fewer engineers entering the market today do so as

Radio World

The manufacturer wrote that the amps are identical to those in certified it makes, and that the transmitters imported and marketed by SCMS "are by all intents and purposes the same models already certified by an FCC approved test lab.&rd