Adjustable capacitor C10, and coil L1 form a tank circuit that, in combination with Q1, C2, and R1, oscillates at a frequency on the FM band. The center frequency is set by adjusting C10. An electret microphone, M1, picks up an audio signal that is amplified by transistor Q2. The audio signal is coupled via C9 to Q1, which frequency modulates the tank circuit.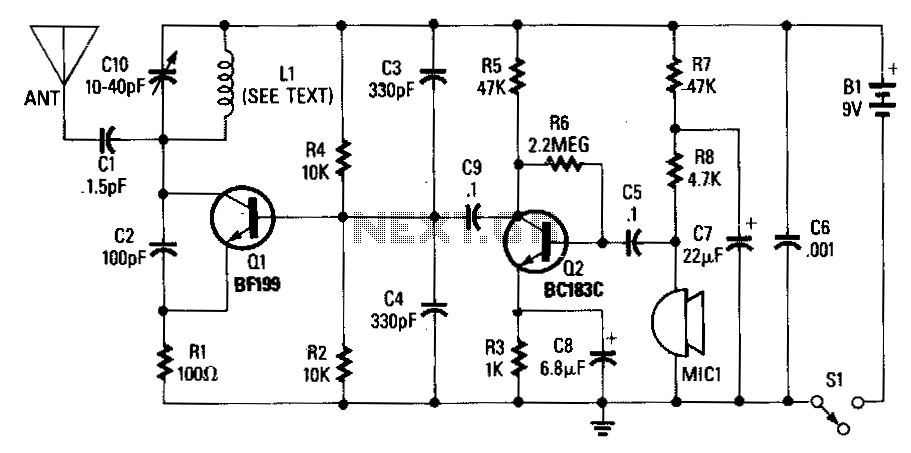 The signal is then radiated from the.antenna. The circuit can operate from 9-12 Vdc.
Recommended videos
Build A Long Range FM Transmitter (Spybug)

Banggoods FM Transmitter Module.is it any good?
News
RadioandMusic.com

RadioandMusic.com Listing various achievements as an outcome of measures taken in recent years, he said as far as All India Radio was concerned, a total of 610 (MW-143, SW-48, FM-419) which included 195 100 W had been commissioned by 10 Feua

Radio World

I also grounded the unipole feed on the troubled tower to keep AM voltages to a minimum while workers were on it. Grounding was by a ... transmit antennas. The had to be reduced in power or completely shut down for much of the project.<

Radio magazine

Secondly, the mux transmitters actually make for more oadcasting opportunities: They have more capacity to carry programming then the old they've replaced. From my research, and yearly trips to the NAB Show, I would estimate that ...

Radio magazine

Radio magazine OSLO — The second county in Norway shut down some of their this week. So we checked in with our Norwegian correspondent, oadcast engineer Eivind Engberg, to see how things are going. "This week will see the second

Radio magazine (blog)

NDTV GatesAir recently upgraded the Swedish — and now I can get very good FM signal quality from the Swedish channels long inside Norway. Sweden was always in front of radio content and in the 60s and 70s Swedish Radio was very popular

Radio World

KCRW is a six-station cluster consisting of KCRW, Santa Monica, KDRW, Santa Barbara, KCRU, Oxnard, KCRY, Mojave & KCRI, Indio, and KERW, Los Osos-Baywood Park. Additionally it operates seven low power translator stations in the communities o

Radio World

Eric Pere: Generally, operate far more efficiently than DTV or DAB transmitters so, the advantages of water cooling aren't as significant in the FM sphere. If a manufacturer ..... Fewer engineers entering the market today do so as

Radio World

The equipment to be provided by GatesAir will be two Flexiva FAX air-cooled 10 kW , antenna systems and auxiliary and support equipment. In addition, a GatesAir Exgine4 HD Radio platform will be installed. The platform, made up of ...

Radio World

The manufacturer wrote that the amps are identical to those in certified it makes, and that the transmitters imported and marketed by SCMS "are by all intents and purposes the same models already certified by an FCC approved test lab.&rd