Ql amplifies the output from an electret microphone MIC1. Audio is fed into oscillator Q2, which modulates the signal.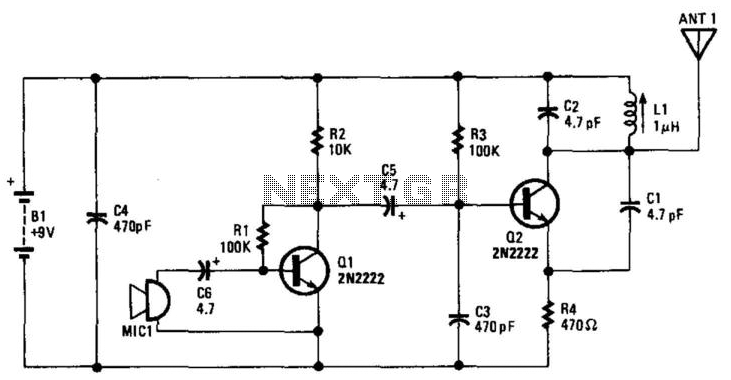 LI CI is a tank circuit for operation in the 88-MHz region. The antenna is a 6- to 8-inch piece of wire. LI is a variable inductor in the l- range.
Recommended videos
Make your own FM Bug Transmitter

Video

Simple Wireless Microphone. Basics of Circuit ...
News
RF Globalnet (press release)

RF Globalnet (press release) SBS chose Rohde & Schwarz because of the company's top technical expertise and long-standing professional support with T-DMB, ATSC 1.0 and . During the evaluation phase, SBS also used Rohde & Schwarz trans

Radio magazine (blog)

NDTV GatesAir recently upgraded the Swedish — and now I can get very good FM signal quality from the Swedish channels long inside Norway. Sweden was always in front of radio content and in the 60s and 70s Swedish Radio was very popular

Radio World

KCRW is a six-station cluster consisting of KCRW, Santa Monica, KDRW, Santa Barbara, KCRU, Oxnard, KCRY, Mojave & KCRI, Indio, and KERW, Los Osos-Baywood Park. Additionally it operates seven low power translator stations in the communities o

Radio World

The commission has since 1999 skipped the urgent step of evaluating the environment before repeatedly and constantly making allocation decisions. The time is now to proceed with a well-planned comprehensive nationwide noise floor study.<

Radio World

Eric Pere: Generally, operate far more efficiently than DTV or DAB transmitters so, the advantages of water cooling aren't as significant in the FM sphere. If a manufacturer ..... Fewer engineers entering the market today do so as

Radio World

The modulation monitor has a reputation as an obscure component in the chain, and there is truth behind the statement. For decades, engineers generally installed the box and left it alone, revisiting it for an occasional cursory glance at the f

Radio World

The manufacturer wrote that the amps are identical to those in certified it makes, and that the transmitters imported and marketed by SCMS "are by all intents and purposes the same models already certified by an FCC approved test lab.&rd

Radio World

As the new NFL season opens, Radio World takes a special in-depth look at the program where football and engineering meet. It was Jan. 29, 1995 at Joe Robbie Stadium in Miami, Fla., the site of Super Bowl XXIX. The game was a triumph for the Sa

Radio World

Notably, this occurred at a location with ambient levels higher than normal. Maxson says it remains to be seen if the phenomenon occurs at lower levels. All levels at the site were within FCC RFR limits. This phenomenon was previously experien