The diagram of detail of Fig.2 gives additional precise details: The signal HF collected by the antenna is amplified by T1, framed reel S of agreement L1 and L2. To vary the profit of T1, it is enough to vary its supply voltage. Here it passes from 4v to 0V, the varying profit of +10 dB with - 10 dB, is 20 dB on the whole. It is far from bebeing negligible! All the remainder of the assembly is integrated in a MC3362 from MOTOROLA. To notice quartz QZ1 ensuring the local oscillation of first mixer. Its frequency is of Freq/reçue- 10700 in kHz, so as to come out of the 10.7 MHz, filtered by a XF106 of KVG. Applied to second mixer with its quartz of 10245 kHz, we obtain from the 455 kHz, filtered by a traditional CFW455. The 455 kHz is treated in-house by an amplifier on 6 floors which supplies a discriminator FM granted by L4.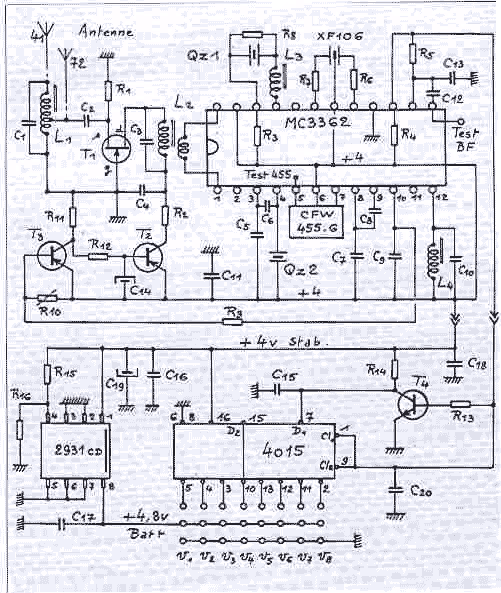 This amplifier delivers at the same time a D.C. current proportional to the intensity of the received field. (RSSI). This current is amplified by T2 and T3 and allows the control of the profit of T1. You initially finds in fig. 1 the simplified diagram of the assembly. You see the HF amplifier T1, two mixers delivering one the 10.7 MHz, the other the 455 kHz then the saturated amplifier with the 455 kHz. Finally the FM demodulator and the output comparator which provides a rectangular signal to the logic of decoding. Let us note also the AGC chain with transistors T2 and T3 for gain control of T1 T1. The RX17-2 wants to be subminiature. For that purpose, we use quartz out of case HC45, without support. According to the manner of assembling it, the RX17 measurement either 27x32x23 mm or 32x38x16 mm. See photographs. In both cases, volume is of 19.5 Cm3 and the weight of 22 G, out of case aluminum of 6/10, without particular precaution. For these two versions, it is possible to come out the connectors, either with the square of the circuits, or in the prolongation. See photographs. This second provision makes it possible to have a receiver of 16mm overall thickness, which facilitates its installation in the narrowest cells. For this provision, an additional plate, envisaged in the layout of the circuit, is to be welded onto the line of the barbs ` signal `. The junction being done only by the weldings, without plug wire. The RX18 is a mono-printed board version of the RX17. It thus has same surface 31x51 mm, but with a thickness half. Using ordinary quartz, the 10245 kHz welded and QZ1 onto support, it is a little less expensive than the RX17. It measures overall 32x52x18 mm and weights 30 g. It is thus a receiver which is appropriate perfectly for the majority of the installations. The absence of connection by wire between receiver and decoder accroit reliability. As for the RX17, the connectors assemble themselves either to the square, or parallel to U principal circuit.
Recommended videos
Simple MC3362 superhetrodyne SDR receiver

40M Parts and Kits Receiver

27MHz CB BAND - DDS Radio Receiver (Homebrew) - What
News
Fiscal Standard

MaxLinear, Inc. is a provider of integrated, radio-frequency (RF) and mixed-signal integrated circuits for oadband communications and data center, metro, and long-haul transport network applications. The Company's products capture and ...<

Government Security News

The company developed a series of Advanced Digital- (ADRs) for the government that are interoperable with all waveforms and spectrum ranges. The modular, multifunctional ADR can support multitudes of applications—including SIGINT, ...

PR Web (press release)

Hypres will provide systems acquisition support, systems engineering, project management, basic research, development, evaluation and implementation of ...

Audio Visual News Network

Management PlatformsATX also offers its MAXNET original F/BNC connector-based fully integrated 5-1002MHz signal management platform. Active products in all three series include amplifiers, power supplies, detector A/B switches, and analog

Business Wire (press release)

MaxLinear's latest-generation Full-Spectrum Capture™ satellite and cable front-end receivers were selected by Sky Deutschland for a new PV.MaxLinear DVB-T Selected by Fetch TV for New Hyid Set-Top BoxesDigital Journal

RF Globalnet (press release)

Deliver Wideband Performance Over USB3.0 And PCIeCRFS, a leader in COTS real-time spectrum monitoring solutions announces faster sweep speeds and the addition of USB3.0 interface for its Nexus R-8 wideband . Customers now have a choice of

GPS World magazine

GPS World magazine front-endsThe NT1065_USB3 and Multi_GNSS_Grabber_Board are research and evaluation platforms for professional navigation , based on NTLab's front-end integrated circuits: the NT1065 "Nomada" (4-channel&nbs

Dark Reading

One of the most effective countermeasures for dealing with a threat like this is to define areas around air-gapped systems where are prohibited, the researchers said. Partition walls with proper insulation can also help to lower signal <

Digital Trends

Digital Trends Humavox wants to make wireless charging easier, and more widespread. That starts with manufacturers, and that's why Humavox is teaming up with AKM Corp.