The diagram of detail of Fig.2 gives additional precise details: The signal HF collected by the antenna is amplified by T1, framed reel S of agreement L1 and L2. To vary the profit of T1, it is enough to vary its supply voltage. Here it passes from 4v to 0V, the varying profit of +10 dB with - 10 dB, is 20 dB on the whole. It is far from bebeing negligible! All the remainder of the assembly is integrated in a MC3362 from MOTOROLA. To notice quartz QZ1 ensuring the local oscillation of first mixer. Its frequency is of Freq/reçue- 10700 in kHz, so as to come out of the 10.7 MHz, filtered by a XF106 of KVG. Applied to second mixer with its quartz of 10245 kHz, we obtain from the 455 kHz, filtered by a traditional CFW455. The 455 kHz is treated in-house by an amplifier on 6 floors which supplies a discriminator FM granted by L4.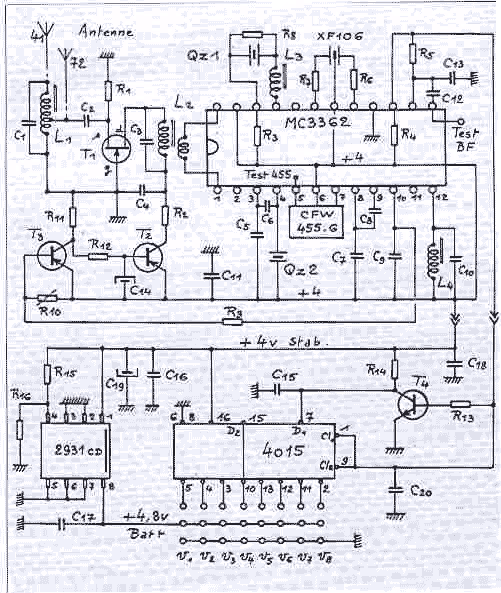 This amplifier delivers at the same time a D.C. current proportional to the intensity of the received field. (RSSI). This current is amplified by T2 and T3 and allows the control of the profit of T1. You initially finds in fig. 1 the simplified diagram of the assembly. You see the HF amplifier T1, two mixers delivering one the 10.7 MHz, the other the 455 kHz then the saturated amplifier with the 455 kHz. Finally the FM demodulator and the output comparator which provides a rectangular signal to the logic of decoding. Let us note also the AGC chain with transistors T2 and T3 for gain control of T1 T1. The RX17-2 wants to be subminiature. For that purpose, we use quartz out of case HC45, without support. According to the manner of assembling it, the RX17 measurement either 27x32x23 mm or 32x38x16 mm. See photographs. In both cases, volume is of 19.5 Cm3 and the weight of 22 G, out of case aluminum of 6/10, without particular precaution. For these two versions, it is possible to come out the connectors, either with the square of the circuits, or in the prolongation. See photographs. This second provision makes it possible to have a receiver of 16mm overall thickness, which facilitates its installation in the narrowest cells. For this provision, an additional plate, envisaged in the layout of the circuit, is to be welded onto the line of the barbs ` signal `. The junction being done only by the weldings, without plug wire. The RX18 is a mono-printed board version of the RX17. It thus has same surface 31x51 mm, but with a thickness half. Using ordinary quartz, the 10245 kHz welded and QZ1 onto support, it is a little less expensive than the RX17. It measures overall 32x52x18 mm and weights 30 g. It is thus a receiver which is appropriate perfectly for the majority of the installations. The absence of connection by wire between receiver and decoder accroit reliability. As for the RX17, the connectors assemble themselves either to the square, or parallel to U principal circuit.
Recommended videos
Simple MC3362 superhetrodyne SDR receiver

40M Parts and Kits Receiver

27MHz CB BAND - DDS Radio Receiver (Homebrew) - What
News
Hugo Press

HugoPress

Susquehanna Initiates Coverage On MaxLinear, Inc. (NYSE:MXL)'s stock to Positive with no specific Price Target. This rating was issued on 12/21/16. The stock ...

Audio Visual News Network

... Axient Digital features four core user-friendly features and benefits, such as high-performance . Axient Digital is designed for maximum signal stability. It features true digital diversity with Quadversity technology, mitigating the

Chaffey Breeze

Herald KS The Company's products capture and process digital and analog oadband signals to be decoded for various applications. These products include both and systems-on-chip (SoCs), which incorporate the Company's ...Perpetual Energ

Yahoo Finance

Yahoo Finance SUWANEE, Ga., April 24, 2017 /PRNewswire/ -- ARRIS International plc (ARRS) today announced two new advanced Satellite Receiver solutions for satellite ...

Audio Visual News Network

at NAB: New Gear Reflects FCC ChangesDPA Microphones may not make wireless transmitters or , but its products are frequently paired with third-party gear. Further extending that capability at NAB 2017, DPA will introduce the MMPG modular a

The Cerbat Gem

BNB Daily Zacks Investment Research upgraded shares of MaxLinear, Inc. (NYSE:MXL) from a hold rating to a buy rating in a report published on Wednesday morning.The MaxLinear, Inc. (MXL) Rating Increased to Buy at Zacks ...Petro Global New

MIX

MIX Common system features include one-touch autoscan searches; one-touch sync, transmitter to ; and AF indicators; high-contrast LCD displays; simplified menus; soft keys to control output levels, squelch, pilot, and lockout; choice of XLR

Lexology (registration)

Lexology (registration) On April 3, 2017, ALJ Theodore R. Essex issued Order No. 28 in Certain RF Capable Integrated Circuits and Products Containing the Same (Inv. No…

PR Newswire (press release)

FORT LAUDERDALE, Fla., April 4, 2017 /PRNewswire/ -- Mountain RF Sensors will have a presence at the Border Security Expo (BSE), April 11th through April ...