| | | | |
| --- | --- | --- | --- |
| Receiver schematic design using MC3335PSSB | | | |
MC3335P use low-power narrowband FM receiver, you can design a very simple 80 m SSB receiver. MC3335 also has a comparator circuit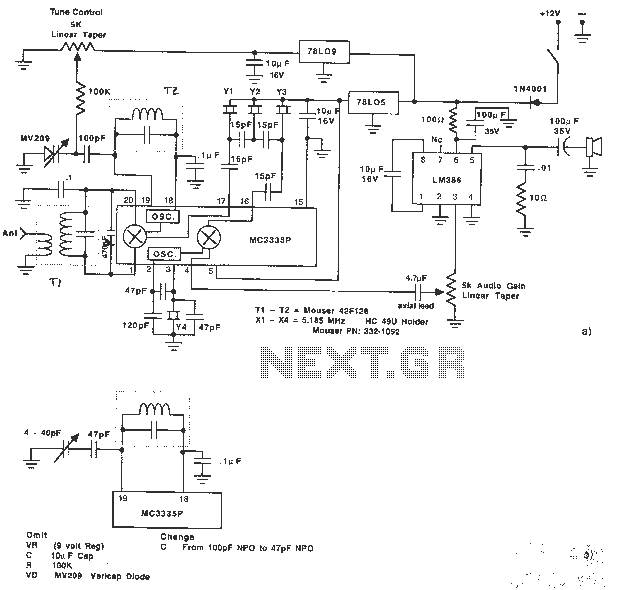 for FSK detection. The circuit is very simple and requires few external components, it includes a simple audio IC is based on an LM386 audio power amplifier. Since MC335P IC input voltage required 2 and 6 volts and LM386 requires a 9-volt DC power supply, this circuit is used in the two fixed three-terminal regulator between. This receiving circuit is a variable capacitance diode or a variable capacitor circuit.
Recommended videos
How To Make A RF Transmitter And Receiver?

RF transmitter and receiver circuit

Practical Circuits: RC Transmitters and Receivers - How to remove and play with them!
News
DailyQuint

The Company's products capture and process digital and analog oadband signals to be decoded for various applications. These products include both and systems-on-chip (SoCs), which incorporate the Company's ...

DailyQuint

MaxLinear, Inc (NYSE:MXL) was downgraded by Zacks Investment Research from a "hold" rating to a "sell" rating in a research report issued to clients and ...

BNB Daily (blog)

BNB Daily (blog) MaxLinear logo MaxLinear, Inc (NYSE:MXL) was downgraded by Zacks Investment Research from a "hold" rating to a "sell" rating in a research report issued on ...MaxLinear, Inc (NYSE:MXL) Valuation A

Electronic Design

Electronic Design Radio-frequency-charging technology does not use coils, instead employing and transmitters. The technology is often compared to Wi-Fi, and works by sending out RF waves from a charging station using multiple miniature anten

Satellite PR News (press release)

Albany, NY — — 02/15/2017 — In a superheterodyne radio receiver, the circuit between antenna and mixer is generally called as RF (Radio frequency) Front ...

Hackaday

Hackaday ProductsWhen Jenny isn't busy writing for Hackaday, she sits on the board of the Oxford Hackspace. She's the ains behind Language Spy, and sells electronic kits that include , filters, and eakout boards. She's extremely active

TV Technology

Broadcast Project Manager Paul Wolff said, "Despite numerous physical obstacles, with Domo's transmitter and we achieved 95 percent coverage, which is remarkable given the numerous physical obstructions throughout the race route.<

GlobeNewswire (press release)

in Pin-in-Paste Side-View Holder Lower Assembly Costs and Increase ...The Minimold package is also available with the proven "F" option for an enhanced optical filter against out-of-band optical noise, while TSOP53xxx series dev

Highland Mirror

Sports Perspectives The Company offers semiconductor products such as systems-on-chip (SoCs) Laser Modulator Drivers Transimpedance Amplifiers and Clock and Data Recovery Circuits. The Company's products receive and process RF and ...A