| | | | |
| --- | --- | --- | --- |
| VFO stabilization with 2N4416 | | | |
The coil is about 25 turns #28 wire on a T-44-6 core, tapped at about 5 turns. I'm too lazy to open my VFO and count it for you -- besides, you'll probably have to tweak it yourself with your available components. Once the turns are squeezed to the right place to adjust the tuning range, a bit of Q dope holds them in place. This is built on a one-sided etched board, which fits neatly into the PC board shield box and is soldered right to the stator pins of the particular tuning capacitor, with just a little bead of solder to tack it to ground.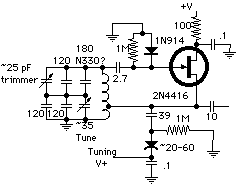 When I started with the Lewallen "Optimized QRP Transceiver" VFO, it never really settled down for me in various iterations. It always kept drifting down, down, down about 100 Hz/hour, never stopping, even when using brand new NP0 Panasonic chip capacitor