| | | | |
| --- | --- | --- | --- |
| Relay Interface For Amateur Radio Transceivers Circuit | | | |
The relay power in the linear is obtained from the -120-V bias supply, and the transmit keying output from the Kenwood is +12 V at 10 mA maximum. The key ingredient in the circuit is the pnp driver transistor,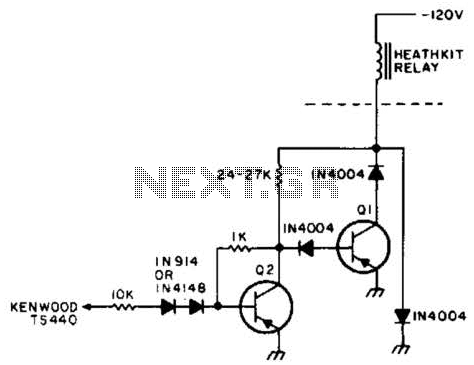 which must be capable of handling at least 150 V at about 250 mA.
Recommended videos
Keying A Transceiver With An Arduino Using An Optocoupler
News
Electronics Weekly

Electronics Weekly The 2.4GHz has a programmable transmitter for optimised output power and current consumption. The Bluetooth low energy controller and host can be configured to support up to eight simultaneous connections. Secure connectio

EE Times

EE Times TORONTO – Researchers at the University of Toronto's Integrated Systems Laboratory have have created a 20 Gb/s single-ended die-to-die transceiver to address some of the challenges presented by the likely to replace double dat

Phys.Org

Phys.Org Arash Moradi and Mohamad Sawan from Polytechnique Montreal in Canada discuss their new low-power VCO design for medical implants. This oscillator was implemented to provide the frequency deviation of frequency-shift-keying (FSK) modu

Phys.Org

Phys.Org transceiver for wireless smart energy management and remote industrial monitoringA*STAR Institute of Microelectronics (IME) and Cubic Micro today announce that they have developed and demonstrated a 400 MHz radio frequency () tr

Tech-On English

Our transceiver chips include a microcontroller and OTP memory as well as an . Still, the prices of such chips are US$1 or less when they are mass-produced. When our chips are used for remotes, they can realize all the

Tech-On English

As a wireless LAN IC, Mitsumi Electric employs Atheros Communications Inc's "AR6002," whose and baseband processing circuit are integrated, while Renesas uses its "KS3021" transceiver IC and "KS7010" baseband ...

Tech-On English

RadioPulse Inc of Korea has developed the MG2450, a ZigBee communication LSI that the company claims is "the world's smallest at present." The LSI is exhibited at Wireless Japan 2007. The 5-mm square LSI chip integrates an , ...