| | | | |
| --- | --- | --- | --- |
| 4 ~ 20mA transmitter circuit diagram TMP35 temperature | | | |
4 ~ 20mA constituted by a TMP35 temperature transmitter circuit as shown in FIG. This circuit can be a voltage signal TMP35 output is converted into a standard 4 ~ 20mA current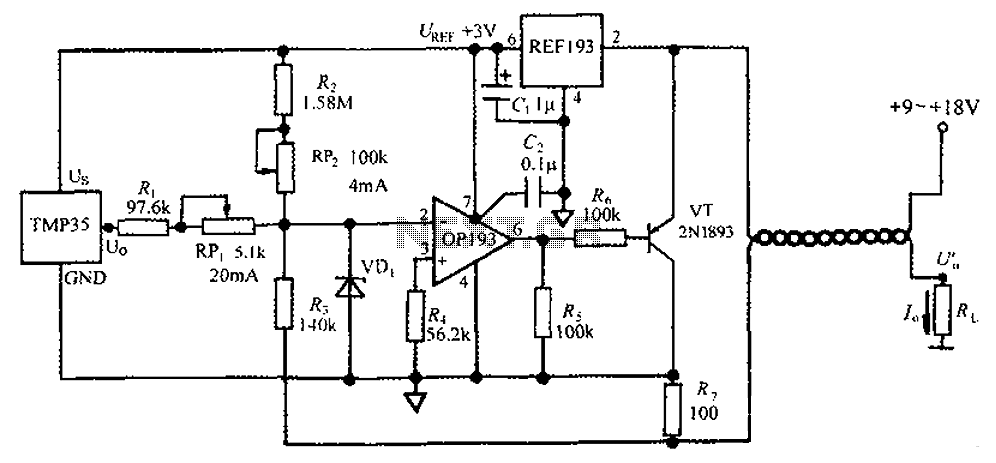 signal, for the use of automated instrumentation, industrial temperature control. Here is 4mA as zero-scale value, 20mA full-scale value. REF193 is 3V reference voltage source, OP193 operational amplifier. RP1, RP2, respectively, and full scale calibration potentiometer zero, both can be adjusted independently of each other. VD1 Schottky diode, which prevents OP193 open loop voltage increases. Preferably the power supply voltage + 9 ~ + 18V. Transmitter output current expression is:
Recommended videos
Pressure Sensor

Ground Loops in 4-20 mA Signals

How to design a transmitter chapter one
News
TV News Check

TV News Check In China, oadcasters have deployed several thousand DTMB high and low-power since 2016. In the United States, more than 1,000 full-power and Class-A television stations ... The Avateq ActiveCore® Layer Monitoring Receiver

TV News Check

TV News Check The FCC-mandated TV spectrum repack and ATSC 3.0 will be the biggest trends in RF developments at the 2017 NAB Show. However, that simple statement ...

NYSE Journal (press release)

On 3/22/2017, Shares of ParkerVision, Inc. (NASDAQ:PRKR) closed at $1.86 in last trading day. After noting the initial trading entry at $1.67, it reached to a day's ...

Yahoo Finance

Yahoo Finance New Module Features Integrated Synthesizer and Power Amplifier Generating Output P1dB Up to +12 dBm IRVINE, Calif., March 23, 2017 /PRNewswire/ ...

WaterWorld

The City of Battle Creek, Michigan Water System had used mobile metering for years, but was receiving inconsistent AMR reads and seeing installation errors from programming in the field. Inaccurate registers and ultimately affected

Electronic Design

Electronic Design The author of Microelectronic Circuit Design for Energy Harvesting Systems talks energy-harvesting tech with Electronic Design.

TV News Check

Domo Broadcast, a subdivision of Domo Tactical Communications will feature its new Broadcast Nano HD , PRORXD 8-Way Diversity wireless receiver platform, and improved bi-directional camera controls. Domo will also welcome ...

TV Technology

Portfolio for Spectrum Repack at 2017 NAB ShowThe new Maxiva™ ULXTE liquid joins the recently-announced UAXTE air-cooled to give oadcasters two design options with market-leading performance and the industry's lowest total cost of

Digital Journal

In the first part, the report provides a general overview of the RF Transmitters industry 2017 including definitions, classifications, RF Transmitters market analysis, ...