| | | | |
| --- | --- | --- | --- |
| Manpower sensing alarm circuit | | | |
As shown in manpower inductive alarm circuit, simple and practical, when a person's hand near the sensing line, the alarm will send out alarm sound, which is very suitable for the male electrical burglar alarm. Induction line L is a long lo ~ 50cm of wire,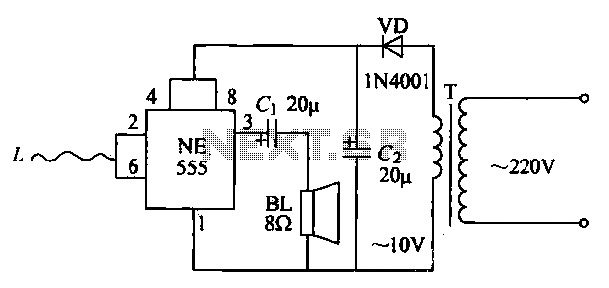 wire as if too long, it will cause the alarm from the alarm. When the staff proximity sensing line when L, will induce a signal in the L, the signal is applied to the time base circuit NE555 first feet and legs, and feet due feet high input impedance, even a weak induction signals 555 will work, the first feet strong signal to drive the speaker BL sound. The alarm sensitivity is high, the manpower from the flux lines at 15cm, silent alarm sound an alarm, continue 1 Meng and then disappears.