| | | | |
| --- | --- | --- | --- |
| Power disconnection alarm circuit diagram | | | |
Circuit operation principle of the device shown in Figure 13. When the barbed wire Fe intact, LSE's O, feet collusion between its pin output high,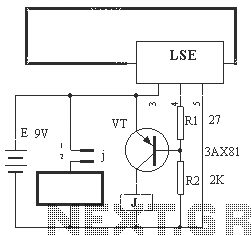 the transistor VT end, the relay J is released, the alarm does not work. If Fe barbed wire was cut (any period), then the LSE O, feet equivalent open, it feet is the original high state to a low state, transistor VT conduction, so that the relay J excitation pull its normally open contact j closure, connected to the alarm circuit power, then alarm.