This type of motion detector uses the same basic concept as the active infrared motion detector. An interruption in a 5 kHz modulated pulsating beam that is transmitted by an infrared diode and received by an infrared transistor sets off the alarm.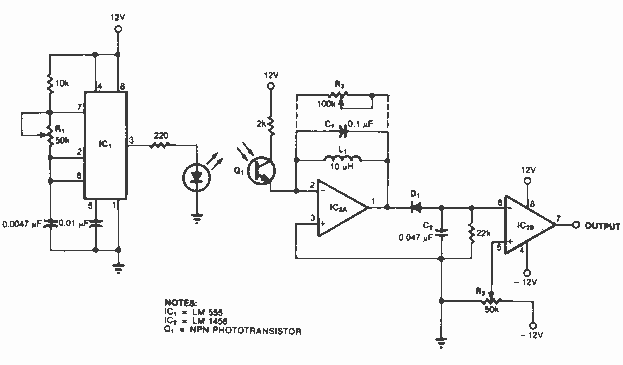 For our project, we decided to construct an active infrared motion detector. Originally, we wanted to build both an IR and an ultrasonic detector, but we decided that an ultrasonic detector would require too much time for a three week project. The circuit on the left is the transmitter circuit that establishes a 5 kHz modulated infrared beam. As you can see from the schematic of the receiver circuit, a resonance-tuned narrowband amplifier reduces the detector`s sensitivity to stray light. C1 and L1 in IC2A`s feedback loop cause the op amp to pass only those frequencies at or near the LED`s 5 kHz modulation rate. IC2B`s output increases when the received signal is sufficient to drop the negative voltage across C2 below the reference set by R2. The output of this circuit is then attached to some load resistance, which can be an alarm or, for demonstration purposes, an LED. However, we also decided that just building an IR motion detector would probably be a trivial exercise. So, we decided to expand on the concept by building an ambient light ignoring motion detector.
Recommended videos
Laser Light Security Alarm Circuit

PIR Sensor Based Security System

How to make a Motion Detection Alarm using PIR Sensor
News
Caledonian Record

Vulnerable home systems such as cameras, , and even child-monitoring room cameras can be hacked. The web site Gizmodo cites a report from Hewlett-Packard's department stating that the top 10 connected products "had ...

Newsandtribune

Newsandtribune FLOYDS KNOBS — Police are investigating a string of early morning eak-ins at businesses in Floyd Knobs. Floyd County Sheriff Frank Loop said an employee of Bean Street Cafe off of Lafollette Station Drive called police ar

SecurityInfoWatch

SecurityInfoWatch Honeywell has enhanced several key commercial products with cloud-based, video alarm verification (VAV) technology to help verify alarm severity and combat ...

DailyHover

DailyHover Market 2017 – Alarm Lock, Detex, Safety Technology Global Market Report 2017 offers comprehensive research study on the current scenario of the market globally, offering a primary overview of market, consisting of def

Apache Junction Independent

Apache Junction residences can have two false a year at which a tiered fee would be assessed for each subsequent alarm in an ordinance change approved by the city council. A tiered $50 fee will be assessed for each subsequent alarm, such&nb

Security Sales & Integration

Security Sales & Integration MINNEAPOLIS — Honeywell's AlarmNet communications network has expanded its integration with I-View Now video alarm verification (VAV) technology ...

Security Sales & Integration

Security Sales & Integration Silent tripped by sensors throughout the property alert the monitoring service to any suspicious activity. If corresponding cameras show a crime in progress, personnel can immediately communicate with the pe

Satellite PR News (press release)

Market Supply-Demand, Industry Research and End User Analysis to 2021Europe Market Production, Supply, Sales, and Demand Research Report is a systematically conducted exhaustive study of the Europe market. The aim of the Europe Industry

Yahoo Finance

DALLAS, Jan. 30, 2017 /PRNewswire/ -- MONI, a subsidiary of Ascent Capital Group, Inc. (Nasdaq: ASCMA) understands that when it comes to home and ...