This type of motion detector uses the same basic concept as the active infrared motion detector. An interruption in a 5 kHz modulated pulsating beam that is transmitted by an infrared diode and received by an infrared transistor sets off the alarm.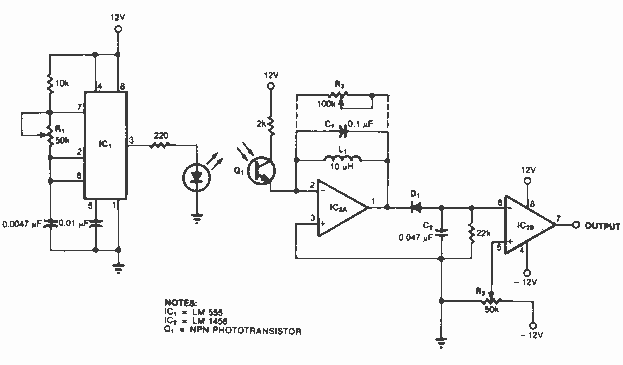 For our project, we decided to construct an active infrared motion detector. Originally, we wanted to build both an IR and an ultrasonic detector, but we decided that an ultrasonic detector would require too much time for a three week project. The circuit on the left is the transmitter circuit that establishes a 5 kHz modulated infrared beam. As you can see from the schematic of the receiver circuit, a resonance-tuned narrowband amplifier reduces the detector`s sensitivity to stray light. C1 and L1 in IC2A`s feedback loop cause the op amp to pass only those frequencies at or near the LED`s 5 kHz modulation rate. IC2B`s output increases when the received signal is sufficient to drop the negative voltage across C2 below the reference set by R2. The output of this circuit is then attached to some load resistance, which can be an alarm or, for demonstration purposes, an LED. However, we also decided that just building an IR motion detector would probably be a trivial exercise. So, we decided to expand on the concept by building an ambient light ignoring motion detector.
Recommended videos
Laser Light Security Alarm Circuit

How to make a Motion Detection Alarm using PIR Sensor

How to make an infrared Entry
News
WWLTV.com

WWLTV.com measures in NOThere will be an additional 20 cameras around the city in hotspots and license plate readers at more than 100 intersections to help track criminals. The City increased the NOPD's budget to $150 million for 2017,

The National

A new complex in the capital's West End fills a gap left after the demise of the Hatton Garden Safety Deposit facility following a 2015 robbery.

Satellite PR News (press release)

Salamander Fire & Security Ltd, a security company based in Redditch, UK, launched a wide range of updated CCTV and alarm security systems for homes and ...

Free Press Release Center (press release)

Systems Services LaunchedSalamander Fire & Ltd, a company based in Redditch, UK, launched a wide range of updated CCTV and systems for homes and businesses. The company offers its clients free consultations and custom CCTV, intruder

ESPN

ESPN at Pittsburgh Steelers' hotelThe hotel was also evacuated while firefighters checked the building. While many members of the Steelers were awakened by the , the team was not evacuated. NFL officials were staying at the same hotel a

Belleville News-Democrat

Belleville News-Democrat has kept watch over St. Louis area for more than 40 years"That's where we monitor all of our and fire alarms, where we host access control and actually do remote video monitoring, which we'll look at a car

The Times and Democrat

The Times and Democrat Investing in an alarm system is a good option for added home security because it provides proven theft deterrence options as well as peace of mind. Taking the ...Building a DIY self-monitored security system - Pers

Security Sales ...

Security Sales & Integration

The updated policy intends to place the onus on alarm owners to ensure systems operate efficiently.

PR Web (press release)

PR Web (press release) SABRE, the no. 1 and of pepper spray trusted by police and consumers worldwide, announced several new Personal Alarms models to their personal security ...