This type of motion detector uses the same basic concept as the active infrared motion detector. An interruption in a 5 kHz modulated pulsating beam that is transmitted by an infrared diode and received by an infrared transistor sets off the alarm.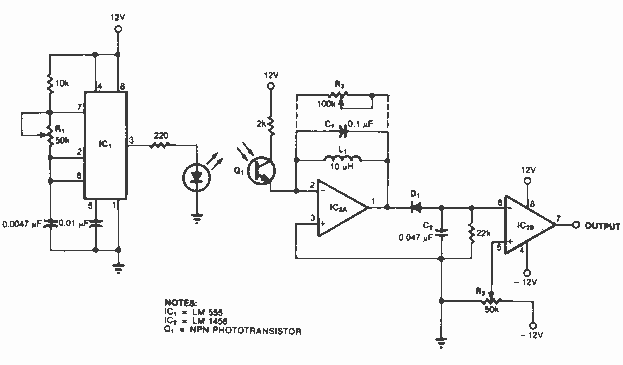 For our project, we decided to construct an active infrared motion detector. Originally, we wanted to build both an IR and an ultrasonic detector, but we decided that an ultrasonic detector would require too much time for a three week project. The circuit on the left is the transmitter circuit that establishes a 5 kHz modulated infrared beam. As you can see from the schematic of the receiver circuit, a resonance-tuned narrowband amplifier reduces the detector`s sensitivity to stray light. C1 and L1 in IC2A`s feedback loop cause the op amp to pass only those frequencies at or near the LED`s 5 kHz modulation rate. IC2B`s output increases when the received signal is sufficient to drop the negative voltage across C2 below the reference set by R2. The output of this circuit is then attached to some load resistance, which can be an alarm or, for demonstration purposes, an LED. However, we also decided that just building an IR motion detector would probably be a trivial exercise. So, we decided to expand on the concept by building an ambient light ignoring motion detector.
Recommended videos
Laser Light Security Alarm Circuit

PIR Sensor Based Security System

How to make an infrared Entry
News
TechnoBuffalo

TechnoBuffalo system is right for youIf you're an established homeowner in the Minneapolis area and you want a partner in security you can keep on speed-dial, Lloyd is what you're after. The security company marries its wide variety of h

Bryan-College Station Eagle

in New OrleansNEW ORLEANS (AP) — New Orleans officials are getting set to impose penalties for owners of properties where repeated false waste police time. A city news release says an ordinance taking effect May 1 will result in a wa

U.S. News & World Report

NEW ORLEANS (AP) — New Orleans officials are getting set to impose penalties for owners of properties where repeated false security alarms waste police ...

Chicago Tribune

Chicago Tribune trouble GaryIn 2015, the department responded to 720 false , far exceeding any other fire department in Lake County, according to data from the Indiana Department of Homeland . A portion of them was classified as "malicio

Sun Community News

Sun Community News from calling 911Essex County Emergency Services Director Don Jaquish is asking the county for a local law that would prohibit local from automatically dialing the local 911 center when tripped. Several recent incident

Wired.co.uk

Wired.co.uk could actually be putting your valuables at riskSecond, most high-tech - whether for computer systems, banks, homes or museums - is -based. When a perimeter is eached, an - silent or sounding - is meant to notify authoritie

Science Daily

A new study, which estimates the carbon footprint of burglary prevention measures, has found that the best options from both an environmental and security ...

News ...

The Columbus Dispatch

When Quincy Miller bought a boarded up triplex that he planned to rehab on the Near East Side, he installed a burglar alarm to protect his investment. What it ...

The Denver Channel

The Denver Channel BOULDER, Colo. – People across the City of Boulder will be fined up to $450 if police have to respond to a false alarm at a home or business. The move comes ...