| | | | |
| --- | --- | --- | --- |
| Simple lock circuit can alarm | | | |
Circuit works: Figure 5 -2a in S. Alarm switch. If you press S, after the relay K. Electrical work, two normally open contacts Pull,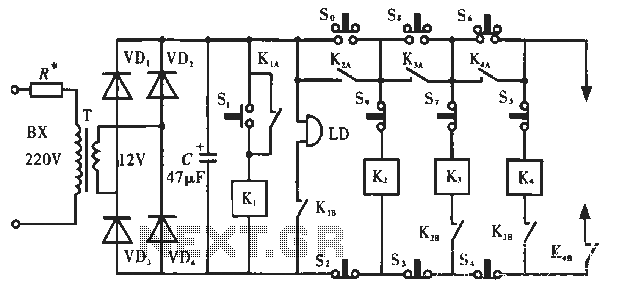 so that the alarm bells sound. At this time, even when you release s. Alarm sound is still large, and so only after the arrival of the owner off the power to stop the alarm. so, S. , S6 valid switch. After pressing so, K2 relay energized electrical appliances, two normally open contacts K2A, Kze pull; and finally press S6, K4 relay is to energize, K. A, K4B normally open contact sticking, thereby turning on the power smoothly electronic lock to open the lock. Note that so, s8, S6 open order can not be reversed, otherwise invalid. S: a S ,, S7, S9 are normally closed push button switch, unlocking switch can not be pressed several, whether the circuit is broken, K2, K3, K4 relay re-energized. The schematic set unlock password is "086", of course, readers can also reset the password lock.