| | | | |
| --- | --- | --- | --- |
| Photoelectric Sensor Circuit | | | |
The circuit can be used as a sensor that can trigger an alarm, without direct contact being made by the intruder. In this circuit, a visible or invisible light source radiates on the sensor, keeping the detection loop in what could essentially be called a normally closed condition. As long as the light source striking R5 remains uninterrupted, the switch remains closed. But if an intruder passes between the light source and the sensor, the circuit goes from closed to open, and triggers the alarm. A light-dependent resistor (LDR), whose resistance varies inversely in with the amount of light hitting its sensitive surface, is used.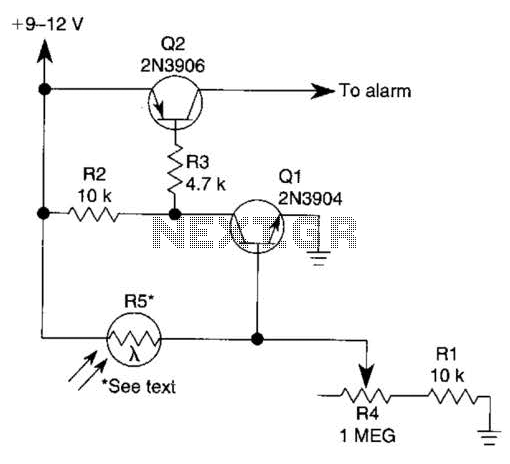 A bright light aimed at R5 causes its internal resistance to drop as low as a few hundred ohms; in total darkness, the unit`s resistance can rise to several megohms. The light-dependent resistor (R5) is connected between the +Vsupply and the base of Ql. As long as R5 detects light, it supplies ample base current to cause Ql`s collector to saturate to near ground level. That also pulls the base of Q2 (a 2N3906 general-purpose pnp transistor) to near ground level, turning it on and clamping its collector to the + V rail.