| | | | |
| --- | --- | --- | --- |
| 1 transistor treasure locator circuit | | | |
Locator uses a transistor radio as the de-tector. With the radio tuned to a weak station, adjust Cl so the locator oscillator beats against the received signal. When the search head pas¬ses over metal, the inductance of LI changes thereby changing the locator oscillator's fre¬quency and changing the beat tone in the radio. The search coil consists of 18 turns of #22 enameled wire scramble wound on a 4-in. diameter form. After the coil is wound and checked for proper operation, saturate the coil with RTV adhesive for stable operation of the locator.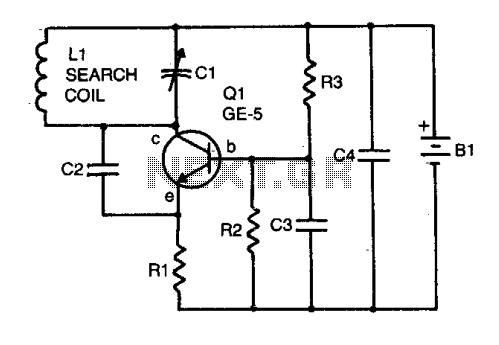 PARTS LIST : B1 — 9-Vdc transistor battery C1 —365-pF trimmer or variable capacitor C2—-100-pF, 100-V silver mica capacitor C3—0.05-/i.F, disc capacitor C4—4.7- or 5-^F, 12-V electrolytic capacitor L1—Search coil consisting of 18 turns of #22 enamel wire scramble wound on 4-in. diameter form Q1 — RCA SK3011 npn transistor or equiv. R1 —680-ohm, 1/2-watt resistor R2— 10,000-ohm, V2-watt resistor R3—47,000-ohm, 1/2-watt resistor