| | | | |
| --- | --- | --- | --- |
| Analysis schematic Chaolitong Phone Travel Charger | | | |
Chaolitong Phone Travel Charger for Motorola to 308,328,338 and 368 series mobile phone battery. The charger has a nickel-cadmium, nickel hydrogen, lithium-ion battery switch,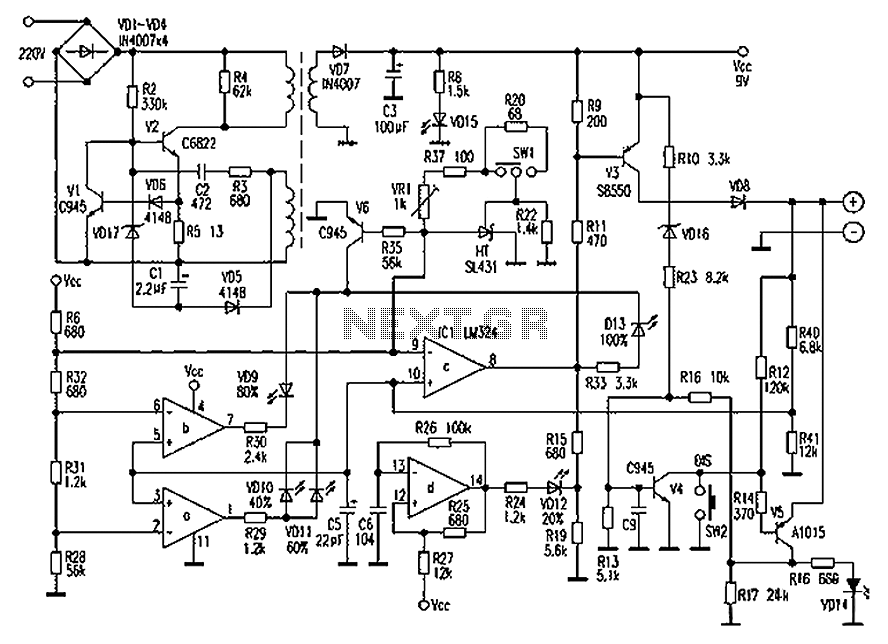 and having a discharge function. In 150 ~ 250V, 40mA when AC mains input, output 300 50mA DC current. The following are plotted based on physical operating principle, for your reference. on the contrary at no load, IC1 a pin is 0.08V, V6 cutoff), VD10, VD11 lights, indicating the corresponding capacity of 40%, 60%. When the partial pressure values R40, R41 rises to 2.63V, that IC1 foot equals 2.63V, after which foot via a resistor voltage divider was 2.63V, feet high output, VD9 lights corresponding to the charge capacity of 80%. Only IC1 ? pin voltage 2.66V, feet only output high, VD13 lights corresponding to the charge capacity of 100%. Even when lit VD13, VD12 still blinks, it indicates that the battery has not yet reached full saturation. Only IC1 pin voltage 6.5V time, VD12 gradually turns off, the battery is fully charged to saturation. VD16 played in the charge circuit, overcurrent protection role, VD8 play reverse the protective effect, avoid power charger, the battery reverse discharge.