| | | | |
| --- | --- | --- | --- |
| Line-activated-solid-state-switch | | | |
Each and every time a phone on the same line or calling numberis taken off-hook, the circuit will be activated to control an external electronic circuit. If several extension telephones are used on one phone line, the circuit can be useful as a busy indicator. LEDl contains a special flashing red LED that makes an excellent indicator for a busy circuit condition. The solid-state switch can be used for several other phone-activated applications, such as automati cally turning on a cassette recorder, starting a phone-use timer or counter, etc.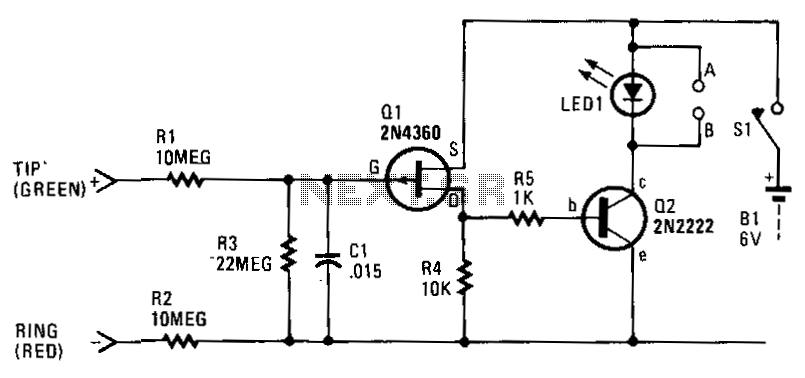 A small relay can be connected at points A and B, in place of LEDl, to control external circuits. A 117-Vac-to-6-Vdc plug-in power supply can be substituted for the battery to keep the operating cost at a minimum. The 48-Vdc, on-hook, phone-line voltage keeps Ql in the cut-off condition, allowing no current to flow through resistor R4, hence Q2 remains off. Resistors Rl and R2 keep the solid-state switch circuit from causing any problems with the telephone"s central-office equipment. Wben a phone is taken off-hook, the line voltage (tip to ring) drops to 10 V or less, which forces Ql to turn on; this, in turn, causes Q2 to trigger LEDl, or a relay which might be used in lieu of LEDl.