| | | | |
| --- | --- | --- | --- |
| Telephone Intercom - DTMF | | | |
This version of the Link uses DTMF tones for dialling both internally between handsets, and externally for outside calls. Remember, in some countries, it is ILLEGAL to simply connect unapproved and untested equipment to Telco lines, so avoid the fine and confiscation of your equipment, and ask nicely? OK ? now, the link A2B as shown has only 2 handsets, numbered ?1? and ?2?. When the Link is at reset, both phones are ?on hook? and no external incoming call is present. If an outside call rings the electronic bell ringer (EBR - not shown, but connected across L1 and L2) then anyone near either of the two phones can answer that call by simply picking up a handset (?off hook?) and dialling a zero (0) This provides a ?set? pulse for FF2 and operates the OSL relay, and places BOTH handsets across the outside Telco line.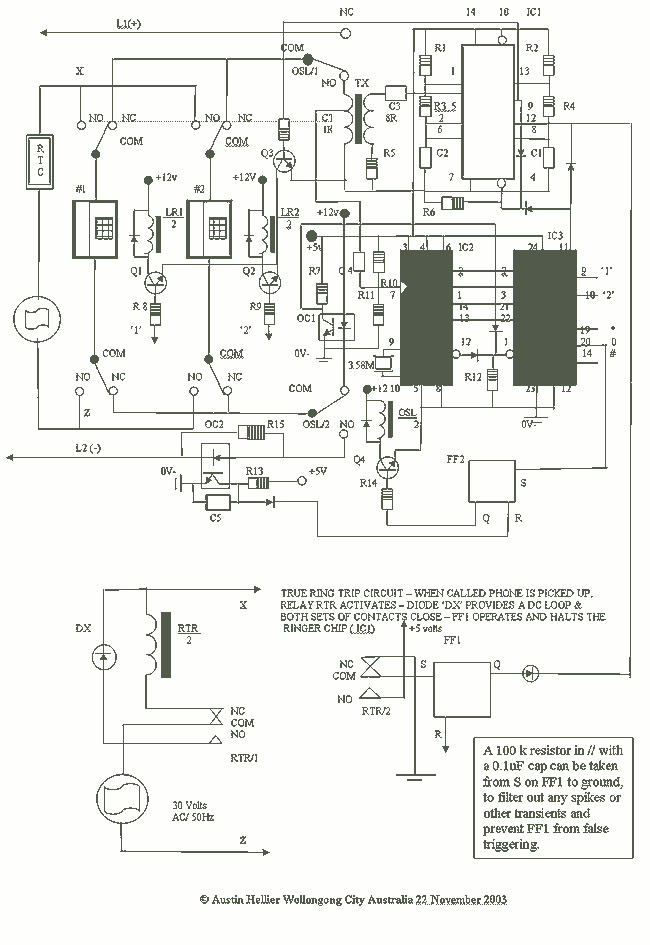 Remember, both handsets are wired across the inside LINK and so their bells won?t respond to the AC ring current present on the outside line, on an incoming call ? that?s why we need the EBR across the line?. When you?ve finished the outside call, simply hang up and line optocoupler OC2 will monitor for an open circuit, reset FF2 (after about a one second delay,) and release relay OSL via buffer/driver transistor Q4, returning both phones to the inside Link circuit. . On an internal call, simply pick up your handset and dial either ?1? or ?2? and then you?ll hear ring tone, and the electronic bells/beeper on the other phone handset will ring at about one second intervals (US style ring cadence). When the called party picks up their handset, the Ring Trip circuit (RTC) will trip, both ring tone and ring current will cease, and you can talk. When you?ve finished, both hang up and the Link will reset itself, ready for the next call. Link A2B Circuitry A basic DC loop is formed by an off hook handset, the 1K winding of Tx and ground, followed by the +12 v terminal, the led inside OC1 and back to the handset via both normally closed (NC) contacts of LR1. When a phone is taken off hook, the led lights up, turning the phototransistor inside OC1 hard on, and grounding its collector terminal, and thus removing the ?reset? pulse via a diode, from the ?R? terminal of FF1 and the junction of pin 1/IC3 and the top of R12 via...