| | | | |
| --- | --- | --- | --- |
| Two-stage wideband amplifier | | | |
A wideband high gain configuration using two SL550s connected in series. The first stage is connected in common emitter configuration, the second stage is a common base circuit. Stable gains of up to 65 dB can be achieved by the proper choice of Rl and R2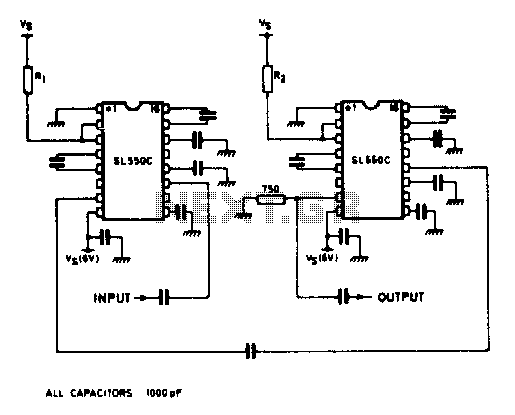 The bandwidth is 5 to 130 MHz, with a noise figure only marginally greater than the 2 dB specified for a single stage circuit.
Recommended videos
Multistage Transistor Amplifiers

Circuit Represents a Two Stage Capacitively Coupled Amplifier

What is an op amp? Operational Amplifier tutorial
News
PC Advisor

PC Advisor Unfortunately this Nokia Android phone will officially be available only in China, though more Nokia Android phones are on their way that will be sold in other regions - these should be announced at MWC 2017 at the end of Feuary, a

DailyQuint

... diode drivers; DSL line drivers; and high-performance operational ; data converters; interface ICs; analog switches and multiplexers; crosspoint switches; voice-over-IP devices; and ICs for military, space and radiation-hardened

East Idaho News

East Idaho News ... on banjo. Check out "Metal in Inappropriate Places", my favorite Scallon so far: ... These two gents do similar videos on their respective channels: Lots of demonstrations of guitars, , effects pedals and othe

Digital Signage Connection

RAMSEY, NJ, January 13, 2017 – PureLink, a leading provider of digital connectivity solutions to audio/video and IT markets worldwide, announced today the ...

Yahoo News

Yahoo News Shows Features Of Android PhoneThe unit also features a 16-megapixel rear camera and an 8-megapixel front-facing shooter. HMD has proudly said that this new smartphone comes with dual that offer 6dB louder sound. Also, they m

Home Toys (press release)

Management Software... respected HD connectivity solutions, consisting of products such as Cross-Platform Digital Modular and Integrated Matrix Switchers, Presentation Systems, CATx/Fiber Optic Extenders, Format Converters, Switchers and

TV Technology

Booth M01 at BVE 2017 will be showing Crystal Vision's forward-looking Vision frame system which is now shipping, along with its initial core cards essential for ...

Geeky Gadgets

Launches On Kickstarter ()The development team have taken to Kickstarter this week to raise the required funds they need to take the powerful mini guitar into production. Watch the promotional below to learn more about its construction, t

CNET

CNET Audiophiles are still passionate about LPs, but you won't find too many videophiles yearning to return to VHS tapes!