| | | | |
| --- | --- | --- | --- |
| Two-stage wideband amplifier | | | |
A wideband high gain configuration using two SL550s connected in series. The first stage is connected in common emitter configuration, the second stage is a common base circuit. Stable gains of up to 65 dB can be achieved by the proper choice of Rl and R2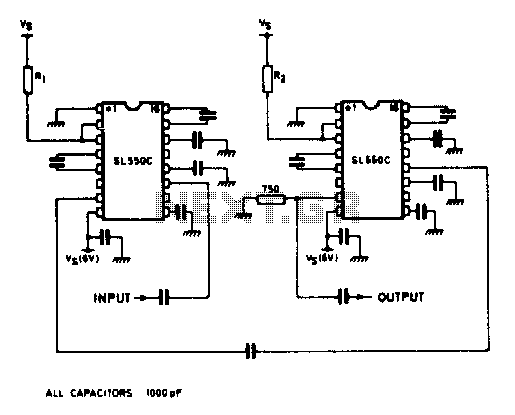 The bandwidth is 5 to 130 MHz, with a noise figure only marginally greater than the 2 dB specified for a single stage circuit.
Recommended videos
Multistage Transistor Amplifiers

Circuit Represents a Two Stage Capacitively Coupled Amplifier

Combination JFET and BJT Two Stage Amp (Bifet)
News
PR.com (press release)

PureLink will be demonstrating at the event their VIP-200 Modular IP Distribution System and VPX IP Management software, as well as the newest HDMI 2.0 solutions they are offering for complete 4K60 signal management. ... respected HD <

T3

Available in two finishes – minimal CNC aluminum and luxurious vegan leather – this 20cm-wide premium speaker also includes a headphone in wired analog mode (which V-Moda says is comparable to standalone headphone worth $200 or

HotNewHipHop

HotNewHipHop Armed with bulky and electric guitars, they set up shop around smoking barrels and strewn car parts and put on an electrifying rendition of "What the Price," a standout off their new album, Culture. They later enter a local

BLABBERMOUTH.NET

BLABBERMOUTH.NET Swedish classic/progressive rock supergroup THE NIGHT FLIGHT ORCHESTRA — featuring members of metal frontrunners SOILWORK and ARCH ENEMY ...

Digital Journal

Campaign to Launch Its Groundeaking Quattrocanali ...The then delves into the details, outlining the three variations of the Quattrocanali that are available: the 1204, 2404, and 4804. The covers varying wattage capabilities, enabling us

Live Design

FamilyFlorence, Italy – Powersoft, a leading manufacturer of advanced power amplification technology, recently launched a playful — yet informative and practical — campaign designed to inform new and existing customers of

Digital Signage Connection

RAMSEY, NJ, March 14, 2017 – PureLink, a leading manufacturer of advanced UHD video connectivity solutions to the professional audio/video industry, ...

PR.com (press release)

to Its HDMI 2.0 Offerings... connectivity solutions to commercial audio/ and IT markets worldwide, today announced the availability of their new high performance, HDMI 2.0 digital distribution , which it is adding to its HDTools line of pro

Broadcasting & Cable

Broadcasting & Cable Provide the Pulse for No Anchovies in Tucson, AZWith space already allocated to networking, audio and sources for 65 flat screens, Qualls needed a compact solution capable of running a large-scale sound system.