| | | | |
| --- | --- | --- | --- |
| Two-stage wideband amplifier | | | |
A wideband high gain configuration using two SL550s connected in series. The first stage is connected in common emitter configuration, the second stage is a common base circuit. Stable gains of up to 65 dB can be achieved by the proper choice of Rl and R2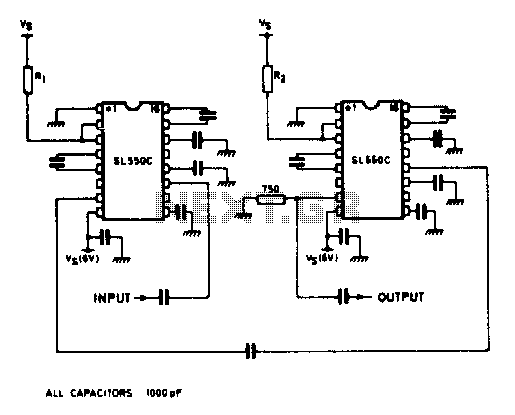 The bandwidth is 5 to 130 MHz, with a noise figure only marginally greater than the 2 dB specified for a single stage circuit.
Recommended videos
Multistage Transistor Amplifiers

Circuit Represents a Two Stage Capacitively Coupled Amplifier

What is an op amp? Operational Amplifier tutorial
News
WFMYNews2.com

WFMYNews2.com Church officials say the suspect tried to steal microphones, , and other electronics from the churches. "They just feel like 'whatever I need, wherever I can get it, this is just another building.'" said Allen. Deputies found th

Greater Kashmir

Greater Kashmir : Jammu Kashmir govt bans fat weddings, restricts number of guests"There shall b complete ban on use of , loudspeakers and firecrackers". "The number of guests to be invited on marriage of daughter (barat

Audio Visual News Network

In addition to the new Soundweb processors and Crown , new AMX Networked AV N2000 and N1000 Series encoders and decoders will be released with support for AES67, providing networked audio compatibility with BSS and Crown ...

Yahoo Finance

Feuary 15, 2017-- Comtech Telecommunications Corp. announced today that during its second quarter of fiscal 2017, its Santa Clara, California-based ...

Home Toys (press release)

"We've got an entire line of HDMI 2.0 products that we will be introducing in the coming weeks; from switchers and equalizers to scalers and , these new systems will take full advantage of the technology's many benefits in UHD 4K and

Broadcasting & Cable

Broadcasting & Cable Finally the Vision frame system includes four distribution for the distribution of digital (the 3GDA-VF), analog (the VDA-VF), digital audio (the DADA-VF) and analog audio (the AADA-VF). With future-proofing at the

Digital Signage Connection

over CAT/Fiber Extension SystemThe VIP-300H-U Series UltraHD 4K HDMI and USB/KM over IP extension system allows users to transport UHD 4K , audio, RS-232, IR, and USB distribution and matrix switching capabilities over IP networks. ... resp

Geeky Gadgets

Geeky Gadgets Magis Labs based in Orange California have unveiled a new Bluetooth wireless amplifier they have created which has been specifically designed to power any.

TechHive

TechHive This powerful amplifier with ARC room correction will fix your room's acoustic problems while streaming hi-res music.