| | | | |
| --- | --- | --- | --- |
| Two-stage wideband amplifier | | | |
A wideband high gain configuration using two SL550s connected in series. The first stage is connected in common emitter configuration, the second stage is a common base circuit. Stable gains of up to 65 dB can be achieved by the proper choice of Rl and R2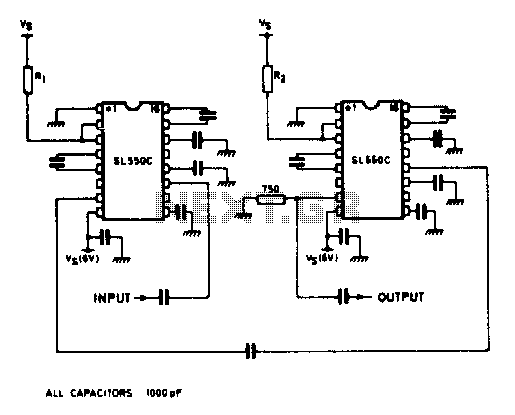 The bandwidth is 5 to 130 MHz, with a noise figure only marginally greater than the 2 dB specified for a single stage circuit.
Recommended videos
Circuit Represents a Two Stage Capacitively Coupled Amplifier

How Tube Amplifiers Work, Part 2: The Pre-Amp and Power Amp

How Tube Amplifiers Work, Part 1: The Power Supply
News
PR Newswire (press release)

II-25 Alpine Electronics Launches In-Dash Receiver II-25 Blaupunkt India Launches New Car Stereos in India II-25 Pioneer India Introduces New Premium Audio- System II-25 Magnadyne Reintroduces its Silencer Brand II-25 Alpine Electronics Unveils&

Virginian-Pilot

Virginian-Pilot The board, lower ring and scorer's tables can all be divided into separate windows to show a variety of graphics, animations, up-to-the-minute statistics, scoring information and advertisements. The sound system, including lo

Rolling Stone

RollingStone.com

RollingStone.com Read our detailed look at the end of the Beatles' touring career, which concluded 50 years ago with a show at San Francisco's Candlestick Park.

Times of Malta

Times of Malta systems integrationTop Technix's product range includes projectors, projection screens, AV switchers, distribution , conferencing systems, PA systems, table mount solutions, and more. Services range from consultation to d

Audio Visual News Network

The What: Atlona is now shipping its eight-output 4K/UHD distribution that features HDMI-to-HDBaseT distribution of 4K/UHD@60fps Hz/4:2:0 , HDBaseT transmission up to 70 meters, HDCP 2.2 support, and Power over Ethernet (PoE).

NPR

NPR The Beatles were a great live band, but only three of their shows were ever professionally recorded. Now new technology takes those shows from The ...

Guitar World Magazine

Guitar World Magazine As Phillip McKnight demonstrates in this new , he likes to eak in his by recording some guitar riffs on a looper pedal and letting the looper play continuously through the amp at a reasonable volume while he goes about

AV Magazine

for 4K Extron Electronics has introduced two new models to the DA HD 4K Series of distribution . Designed specifically for HDMI signals at resolutions up to 4K, the DA4 HD 4K and DA6 HD 4K provide reliable distribution of a source signal t

Phys.org

Phys.Org

Phys.Org The power amplifier of the Fraunhofer IAF transmits at a frequency of 5.8 gigahertz. This frequency is needed for the new 5G mobile radio standard. The centrally ...
Components & Modules Datasheets