| | | | |
| --- | --- | --- | --- |
| Composite Video titling Generator | | | |
The VTG-01 is designed to display user defined text over a composite video signal. This is useful in a multitude of different applications such as adding titles to home movies and adding custom text to security videos. Text can be displayed in different sizes almost anywhere on the screen. Text entry and editing is done by way of a standard IBM AT keyboard. Features : Lowest possible cost. Completely standalone, only an IBM AT keyboard, no computer required. Compact size 120mm x 60mm x 30mm (PCB only - 90mm x 48mm). Powered from a single 9-15V DC (300mA) power source (2.1mm DC socket).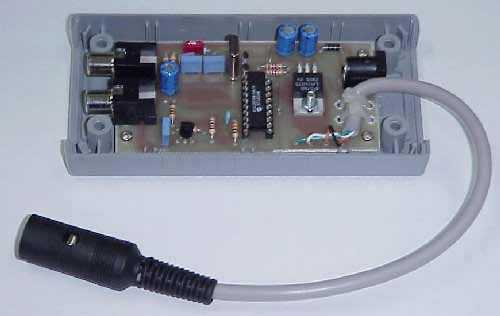 Connects to a standard IBM AT compatible keyboard (not XT compatible). Clear legible text with transparent background. Selectable black text border for a clearer text image.4 Selectable text sizes horizontal and vertical (only one text size per screen). Text can be zoomed in in the X and/or Y directions to four levels. Adjustable horizontal and vertical text window position. 11 rows x 27 character display. Selectable on-screen row cursor. Automatic text brightness adjustment, set to 75% white level. 75ohm RCA composite video input. 75ohm RCA composite video output (includes a DC offset). Colour or B/W compatible. 8MHz video bandwidth. Can be ordered in PAL or NTSC versions