| | | | |
| --- | --- | --- | --- |
| Simple Electronic bell circuit using transistors | | | |
A very simple and useful electronic bell circuit can be made using this schematic circuit diagram. This electronic bell circuit can be used as an doorbell or even for an alarm circuit . This electronic bell circuit use just few transistors and other few common components .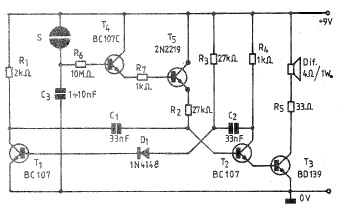 The circuit is activated by a resistive touch sensor (S) . The components values can be changed ( the values are not critical ) , but try to use a transistor with high beta factor for a high sensibility. The used speaker must be a 1W per 4 ohms , if you want to use a speaker with a different power you must change the value of the R5 resistor . The touch sensor can be buid on a small piece of PCB ( printed circuit board ) or you can use for sensor a keypad from another device like a portable calculator , old keyboard or something else . This bell circuit needs a 9 volts power supply circuit .