This low-power inverter uses only 9 parts and turns 10 to 16 Vdc into 60-Hz, 115-V square-wave power to operate ac equipment up to 25 W. The first section of the 556 timer chip is wired as an astable oscillator with R2 and C1 setting the frequency. The output is available at pin 5. The second section is wired as a phase inverter. That output is available at pin 9. Resistors R3 and R4 keep output transistors Q1 and Q2 from loading down the oscillator.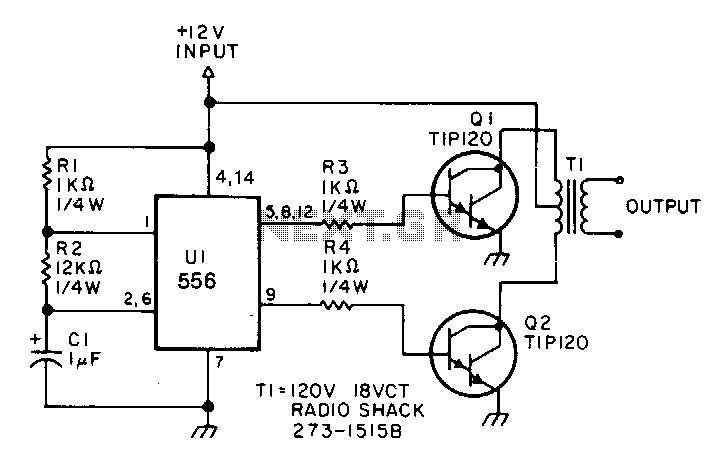 The two transistors drive the transformer push-pull fashion. When one transistor is biased-on, the other is cut-off. The transformer is a 120 V/18 VCT unit that is connected backwards, so that it steps the voltage up rather than down. Oscillator circuit U1, R1, R2, and C1 operates from about 4 to 16 V with a very ~stable output.
Recommended videos
Make an inverter : DIY Experiments #2 - Power AC devices with a battery / homemade inverter

inverter 12v battery to 220v AC using MOSFET

How to Make Simple DC to AC Inverter. ᴴᴰ
News
MENAFN.COM

The new and improved ECI technology offers bi-directionality and multi-directionality on every converter, inging a new dimension to modular and uninterruptible (UPS) with enhanced flexibility and improved efficiency. With

The Cerbat Gem

HuronReport Cree logo Cree, Inc. (NASDAQ:CREE) has earned an average recommendation of "Hold" from the fifteen ratings firms that are currently covering the firm. One equities research analyst has rated the stock with a sell recom

Flyback transformer optimised for industrial applications

Electropages (blog)

Electropages (blog) Used in conjunction with Avago's chipset, the device is suitable for a wide range of industrial applications including , uninterruptible and switch-mode , automation systems, DC-DC converters, renewable energy , and AC

The Cerbat Gem

Cree logo Shares of Cree, Inc. (NASDAQ:CREE) traded down 11.1% on Wednesday following a dissappointing earnings announcement. The stock traded as low as $20.82 and last traded at $22.07, with a volume of 7,809,146 shares changing hands.

HuronReport

HuronReport The Company's products are focused for applications, such as indoor and outdoor lighting, video displays, transportation, electronic signs and signals, , and wireless systems. It currently has negative earnings. The Firm has

Markets Daily

Markets Daily Cree logo Russell Investments Group Ltd. bought a new position in Cree, Inc. (NASDAQ:CREE) during the fourth quarter, according to its most recent filing with the Securities and Exchange Commission (SEC). The institutional inves

Compound Semiconductor

The products are used to convert power in applications such as , solar , AC-AC converters, industrial converters and electric vehicles. Backed by $70 million from the US Department of Energy over five years, PowerAmerica is

Yahoo Finance

Solid State Lighting Design Cree's products are driving improvements in applications such as general illumination, electronic signs and signals, and . For additional product and Company information, please refer to www.cree.com. This press r

GlobeNewswire (press release)

Orbit's Power Group, also located in Hauppauge, NY, designs and manufactures a wide array of power products including AC , frequency converters, , uninterruptible , VME/VPX as well as various COTS ...