| | | | |
| --- | --- | --- | --- |
| FET high input impedance wideband amplifiers | | | |
FET has high input impedance, high input impedance amplifier can be made. However, FET amplifying device, the distributed capacitance and the Miller effect input capacitance of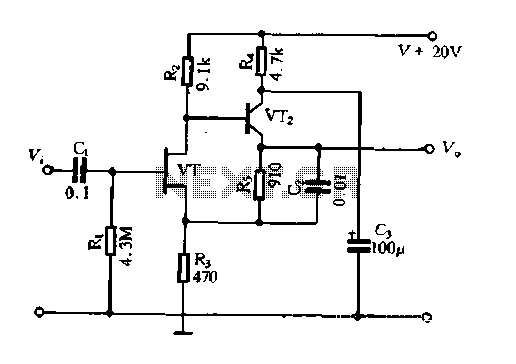 the high frequency is very high. In addition, with the rising operating frequency high input impedance FET will also be gradually reduced. Therefore, without negative feedback common source FET amplification is not possible to obtain a very high input impedance over a wide frequency range. So a high input impedance FET production of wideband amplifier, plus a series of negative voltage feedback amplifiers should be used or the use of source follower plate. Figure 8-11 is a FET, and a bipolar transistor group into a wideband high input impedance preamplifier. Figure, FET common source amplifier VTi composition, its drain output of the transistor is coupled directly to Cape bamboo base o VT2 VT2 collector output and after Rs and R3 voltage divider is fed back to the flooded VTi pole is formed series voltage deep negative feedback, which greatly improved the frequency response of the amplifier, and increase its input impedance. Figure each component values, the circuit voltage gain Kv 2.7, the output impedance equal to 80n, pass -band of several megohms. Rs can be improved to increase the overall amplifier gain, Kv may be greater than 100-fold. But with K, mention high frequency response, along with the decrease.
Recommended videos
why a good voltage amplifier must have high input impedance and low output impedance?

JFET Amplifiers - 03 Common Drain Amp Configuration

#96 Repairing a 1500 Watt MOS FET HAM radio RF Power Amplifier
News
Semiconductor Today

power devices to represent nearly 25% of high-power semiconductors for mobile wireless infrastructure in 2017 power (RFPA) are integral parts of all base-stations for cellular and mobile wireless infrastructure. They represent one of the m

MilTech

Sales Market: 2017-2022 Global Research Trend and 2022 Forecast ReportThe Global Sales Industry report contains a complete product overview and its scope in the market to define the key terms and provide the clients a holistic idea of the

Technology News Extra (satire)

Technology News Extra (satire) Market 2017 : Seebest, Skyworks, Macon, Texas Instruments, SOFTEL, Blonder TongueThe QY Market research study convey remarkable naturalistic facts and statistics of the worldwide CATV market. The report pr

Compound ...

Compound Semiconductor

Times of Kabul ABI Research forecasts that GaN RF power devices will represent nearly 25 percent of all high-power semiconductors for mobile wireless infrastructure in 2017.GaN RF Power Devices To Represent Nearly 25% Of High-Power ...RF

Times of Kabul

Times of Kabul Market 2017 – By Manufacturers, Countries, Type and Application, Forecast to 2022The market report on the CATV Market 2017 consists of all the important aspects of the market. The market size of the CATV market is

DailyHover

DailyHover Market 2017: Macon, NXP Semiconductors, Qorvo, SOFTEL, SeebestThe Global CATV primarily includes a basic overview of the CATV industry. It also includes CATV definitions, classifications and applications. It segments the ma

DailyHover

DailyHover Market 2017-Qorvo,Macon ,II VI IncorporatedGlobal CATV Market The report entitled Global CATV Market 2017 presents key insights into the global CATV market along with the latest up-to-date industry details and forthcoming C

Semiconductor Today

for electronic warfare systemsQorvo Inc of Greensboro, NC, USA (which provides core technologies and solutions for mobile, infrastructure and defense applications) has launched three new solid-state power (SSPA) modules that further expan

GlobeNewswire (press release)

Three new products have the output power of tube amplifiers in compact, solid-state modules.