This one-valve (ECL82) CW Transmitter occupies a very special place in my amateur radio history. I was first licensed in 1994 but did not operate on air. I committed to only ever operate equipment which I had made myself. I had no time for radio construction and several years passed. In early 2002 I came across a design by Jan Axing, SM5GNN and decided to build it. The transmitter worked first time and tuning was exactly as Jan had said it would be. At the same time, I built a solid state HF receiver using various new and unusual techniques such as a Tayloe switching mixer, Huff & Puff stabilised VFO and polyphase audio phase shift network for unwanted sideband cancellation. My first ever QSO was on 25'th March 2002. Over the next few years I made a number of modifications to the transmitter, and it remained my ONLY transmitter for over three and a half years! During this time I made over 550 QSO's, many of which were long ragchews lasting an hour or two. The little ECL82 valve has served well!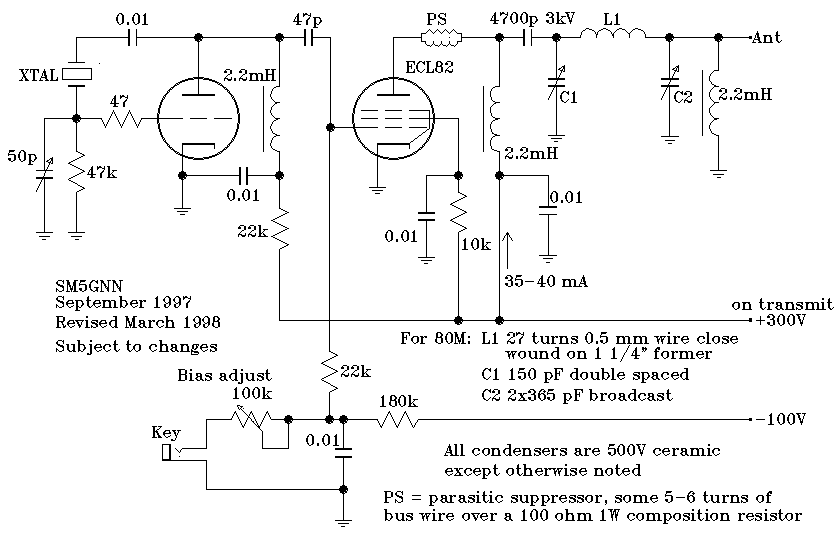 I had a nice QSO on 80m with Hans-Peter, DL9EBA. Like me, he was using a homemade one-valve transmitter (not the same design as my TX). It uses a Philips EBL21 valve and produces an output of 2W on 80m. It is crystal controlled and also operates on the 30 and 40m bands. The sound was great! Visit DL9EBA's Transmitter page! In German, with pictures, or the English text version. I finished to build the ECL82 transmitter and it transmit very well with abt 8 watts on 80m and 40m. The photos and the drawing are on my site: http://f6hcc.free.fr . I have used and adapted your drawing. Hans-Peter DL9EBA kindly sent me this recording he made. You will hear 30 seconds of my one-valve CW transmitter in operation from my QTH (near London, England), during an 80m CW QSO on 30-Nov-02 with Rene ON4KAR (in Mettet, Belgium). Both stations reported 579 and were using 5W QRP power, G0UPL to a longwire antenna and ON4KAR to a G5RV. The recording from Hans-Peter's QTH in Rheinhausen, Germany was made using the 100Hz mechanical filter of his EKD Receiver. There is some QRM from an SSB USB station on QRG, this allocation is shared with other services at times, in this case most probably Danish fishermen. The preceeding QSO to this one was with Hans-Peter DL9EBA, our second QSO. This recording can be downloaded in MP3 format by clicking here to visit the web page of Mike Andrews W5EGO. Mike kindly offered to host the files since I have limited space on this server and in any case it does not allow me to host MP3 files. Thanks Mike! Be sure to take a look around the rest of Mike's interesting website.
Recommended videos
How To Make A RF Transmitter And Receiver?

RF transmitter and receiver circuit

#228: Radio Fun: Michigan Mighty Mite CW transmitter and a low pass filter
News
Forbes

Forbes A delivers current oscillating at radio frequency () to the ends of the antenna, which radiates that energy as radio waves (a form of electromagnetic radiation), whereas a receiver produces current as the antenna absorbs energy from t

Audio Visual News Network

The What: SoundTube Entertainment is now shipping its updated WLL Series wireless /receiver system. Designed to wirelessly deliver audio while supplying 50 watts per channel to speakers, the new WLL-TR1P-II system uses three frequency ...

Inauguration Day 2017 (Part ...

Family Security Matters

"May you live in interesting times" is allegedly an ancient Chinese curse that certainly describes our own troubled era, when the world is on the ink of all ...

Mac Rumors

Mac Rumors Hunter Fan Company has introduced a new Wi-Fi-connected and HomeKit-enabled ceiling fan called Apache, available now for $429 on its website. The...

Radio World

He described experimental implementation of IBOC on-channel "boosting" at Los Angeles' KUSC(FM) this past spring with a 2 W IBOC , noting that the mobile HD reception stayed locked even when regular FM reception was severely impa

TV News Check

Rapid TV News ATSC 3.0 is rounding third base and heading into the home stretch," says Anne Schelle, managing director of Pearl TV, a consortium of leading station groups ...Industry releases ATSC 3.0 planning guide | - Advanced Televisi

Screen Africa (press release)

saves energyThe latest gets 4Kw power from 4pcs LDMOS transistor. The 4kw ONAIR LDMOS FM (FTC4K) has the same dimensions as the old 1kw mosfet but is four times higher power than 1kw . Efficiency of the old 1kw ...

Cowichan Valley Citizen

As stated in other letters, using the fact that people who lived near high power have odd health problems, they have (government) allowed lower power to avoid such publicity, and to fain concern, but the result is more people

Radio World

This week, SCMS is responding to one it received from the FCC Enforcement Bureau's Spectrum Enforcement Division that tells the dealer to stop marketing certain models of power amps and LPFM made by BW Broadcast. SCMS says it ...