This one-valve (ECL82) CW Transmitter occupies a very special place in my amateur radio history. I was first licensed in 1994 but did not operate on air. I committed to only ever operate equipment which I had made myself. I had no time for radio construction and several years passed. In early 2002 I came across a design by Jan Axing, SM5GNN and decided to build it. The transmitter worked first time and tuning was exactly as Jan had said it would be. At the same time, I built a solid state HF receiver using various new and unusual techniques such as a Tayloe switching mixer, Huff & Puff stabilised VFO and polyphase audio phase shift network for unwanted sideband cancellation. My first ever QSO was on 25'th March 2002. Over the next few years I made a number of modifications to the transmitter, and it remained my ONLY transmitter for over three and a half years! During this time I made over 550 QSO's, many of which were long ragchews lasting an hour or two. The little ECL82 valve has served well!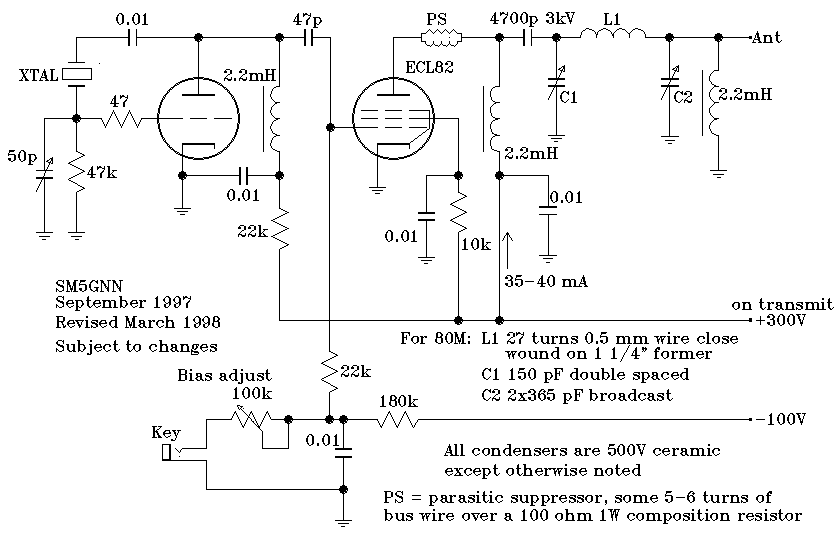 I had a nice QSO on 80m with Hans-Peter, DL9EBA. Like me, he was using a homemade one-valve transmitter (not the same design as my TX). It uses a Philips EBL21 valve and produces an output of 2W on 80m. It is crystal controlled and also operates on the 30 and 40m bands. The sound was great! Visit DL9EBA's Transmitter page! In German, with pictures, or the English text version. I finished to build the ECL82 transmitter and it transmit very well with abt 8 watts on 80m and 40m. The photos and the drawing are on my site: http://f6hcc.free.fr . I have used and adapted your drawing. Hans-Peter DL9EBA kindly sent me this recording he made. You will hear 30 seconds of my one-valve CW transmitter in operation from my QTH (near London, England), during an 80m CW QSO on 30-Nov-02 with Rene ON4KAR (in Mettet, Belgium). Both stations reported 579 and were using 5W QRP power, G0UPL to a longwire antenna and ON4KAR to a G5RV. The recording from Hans-Peter's QTH in Rheinhausen, Germany was made using the 100Hz mechanical filter of his EKD Receiver. There is some QRM from an SSB USB station on QRG, this allocation is shared with other services at times, in this case most probably Danish fishermen. The preceeding QSO to this one was with Hans-Peter DL9EBA, our second QSO. This recording can be downloaded in MP3 format by clicking here to visit the web page of Mike Andrews W5EGO. Mike kindly offered to host the files since I have limited space on this server and in any case it does not allow me to host MP3 files. Thanks Mike! Be sure to take a look around the rest of Mike's interesting website.
Recommended videos
How To Make A RF Transmitter And Receiver?

RF transmitter and receiver circuit

#228: Radio Fun: Michigan Mighty Mite CW transmitter and a low pass filter
News
DigitalProductionME.com

Additionally, one of the key concerns for any production involving such extensive use of wireless microphones is interference and intermodulation. To overcome ... Commenting on the production's decision to tour with an extensive kit of Sennheis

ABI Research (press release) (subscription) (blog)

ABI Research forecasts markets for pulsed RF power devices up to 4 GHz will show continued growth over the next five years and exceed $250 million by 2021, ...

Hackaday

[B Arnold] is hearing voices and needs help from the Hackaday community. But before any of you armchair psychiatrists run off to WebMD, rest assured that [B ...

TV News Check

TV News Check Vendors Prepare For TV Spectrum Repack... to visit the manufacturing facilities of Dielectric, Electronics Research Inc. (ERI) and GatesAir (above) to see how each is preparing for the expected spike in demand for antennas,

CIO

CIO You'll need to be comfortable wearing little in your ears if you want to use Skybuds, but people who yearn for a "truly wireless" experience should appreciate this 2016 CES innovation award winner. To comment on this article and other

Radio World

TechnologyThis really ushered in the convergence of robust, cost-effective power supplies from the IT and telecom industry; along with very robust and high-power devices. The can now take advantage of some of the innovations in very-high

Digital Trends

Sony shooters will soon have another option for off-camera, radio frequency flash control, and it looks to be more affordable than ever.

Electronic Design

For example, the latest addition to ADI's new wideband Radio Verse Family is the AD9371. This wideband transceiver solution boasts two independent paths and two independent receiver paths, with a tuning range from 300 MHz to 6 GHz (see ..

Seeking Alpha

Seeking Alpha ParkerVision conference call reveals strength in litigation. ParkerVision's fundamentals remain strong. ParkerVision's pending suits make this a good bet for ag.Live Price Coverage: ParkerVision, Inc. Has Another Very Strong ...