| | | | |
| --- | --- | --- | --- |
| Lights-On Reminder Circuit | | | |
A relay and two diodes are all tliat is needed the relay performs the job of a buzzer so no annunciator is required. When the lights are left on, but the ignition is off, the normally closcd relay contacts are in series with the relay coil. That means the relay interrupts its own power each time it becomes active, so it chatters and acts like a buzzer.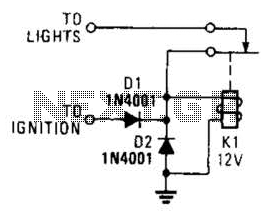 This is a real minimalistic headlight reminder. It doesn`t even require an annunciator because the relay acts as buzzer.