| | | | |
| --- | --- | --- | --- |
| Simplest and low cost USB AVR | | | |
This is the low cost AVR programmer using attiny2313. The schematic diagram is given below. First setup the circuit as shown. One important care taken to make fuse bit avrdude -c usbasp -p t2313 -U hfuse:w:0xdf:m -U lfuse:w:0xef:m If you use serial port to write the program , use stk200 command instead of usbasp.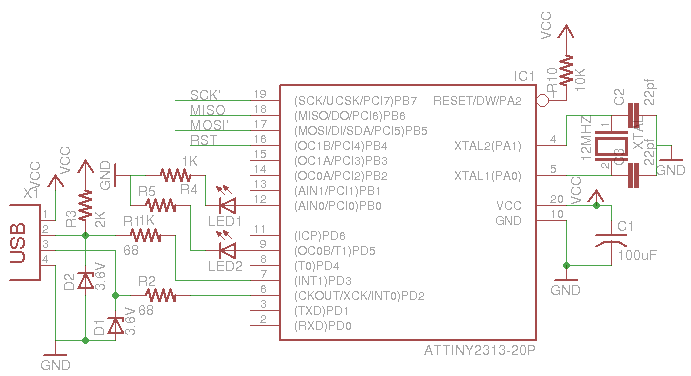 Refer this site: https://learn.adafruit.com/usbtinyisp for to burn program to this attiny 2313
This is documentation for a simple open-source USB AVR programmer and SPI interface. It is low cost, easy to make, works great with avrdude, is AVRStudio-compatible and tested underWindows, Linux and MacOS X. Perfect for students and beginners, or as a backup programmer.
The project is based off of the USBtiny code & design. The main improvements are: adjusting the code to allow it to act as a SpokePOV interface, adding lowlevel bitbang commands, and addition of a "USB good" LED. Other changes are new VID/PID (to make it official), removing some of the commands, and moving around the pins a bit.
Visit page