| | | | |
| --- | --- | --- | --- |
| Wide-range-voltage-to-frequency-converter | | | |
This circuit uses a programmable op amp such as the -HA2730-a two-amplifier monolithic chip with independent programming ports for each amplifier-whose slew rate and other parameters vary linearly with a so-called set current. The converter circuit uses one amplifier, Al, as a slewing amplifier and other, A2, as a comparator function.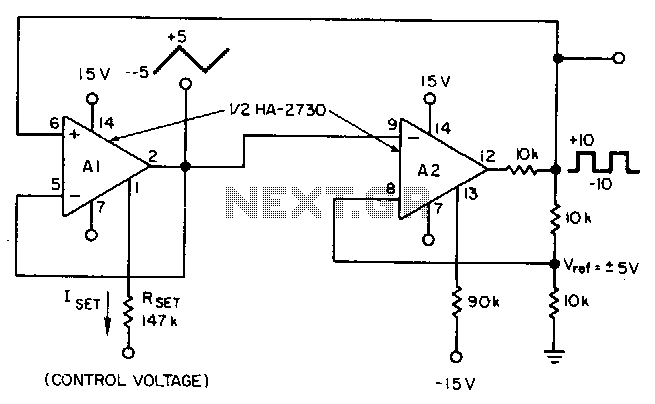 The control voltage Vc. determines Al"s slew rate. And, because Al"s output voltage swing is constant, the modulation of its set current results in direct control of the circuit"s frequency. Al"s internal compensation capacitor acts as the timing component. An internal bipolar current source,whose current magnitude is directly proportional to the set current of pin 1, then determines the charge-discharge rate. A conversion nonlinearity of ±0.03% of full scale over 3 decades and ±1.5% of full scale over 4.3 decades of frequency is possible. The frequency range is adjustable by a change in the resistance, R.