| | | | |
| --- | --- | --- | --- |
| Programable Board with 32K RAM | | | |
While there is a list of features that I would like to add (32k EEPROM support, line numbers to 65,535, more stack space, strings, arrays, 16 bit variables and arithmatic, possibly named variables and REM statements for starters), I have not been able to dedicate much time to this project. You are invited to make enhancements, and I sure would like a copy if you make any enhancements. This is the current stat of a work in progress, though progress may be slow, I've modified the program memory to use 32k bytes of external RAM. I used a Cypress CY7C199-150, though other 32K static RAMs can be uses as well. Just make sure to check the Write and Read pulse polarity on the alternate chip.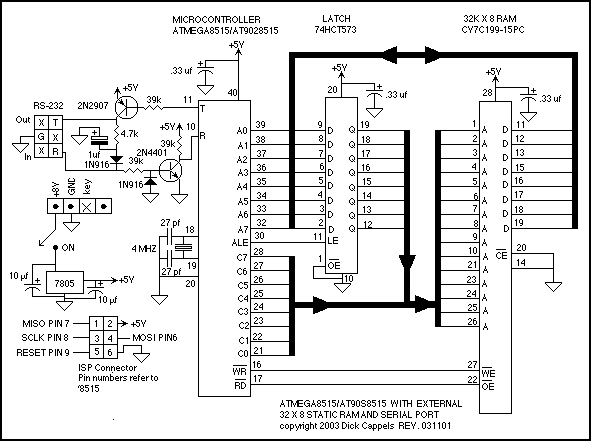 The only components necessary to extend the RAM is a 32k static RAM chip, an octal latch for some of the address bits, and the necessary decoupling capacitors. The 0.33 uf caps I used are tanitlum, and the RAM I used has 150 ns access time. In the shematic above, I connected any address line from the controller or the latch to any address line on the RAM chip. Similarly, any data line from the controller can connect to any data line on the RAM chip. This makes wiring of the board (or layout of the PCB) simpler than trying to connect correspoinding address and data lines.